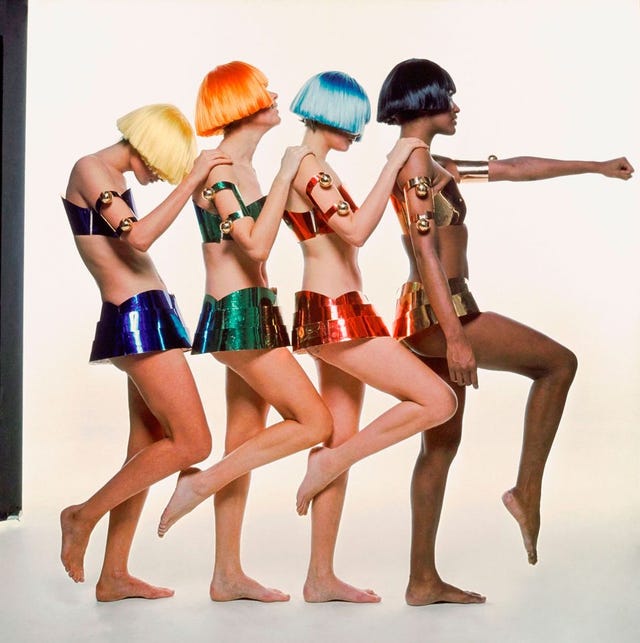 Bert Stern/Condé Nast/Shutterstock
Directly below the Manhattan Bridge, on the mostly-vacant second floor of a Chinatown mall, there is a highly curated array of eveningwear at the vintage mecca James Veloria. When they were first released in the late '90s and early aughts, many of these garments would have been displayed in gleaming department stores. But now, surrounded by tinsel and jewel-toned faux fur, these Gaultier, Vivienne Westwood, and Todd Oldham gems have taken on new life—due in large part to TikTok's ravenous appetite for Y2K-era fashion. This past summer, before the store moved into its new space down the hall from the original, lines wound through the empty mall's corridors. "Everyone was like, 'Oh, we saw it on TikTok,'" says co-owner Brandon Veloria Giordano. "I feel like we maybe went viral, or people started doing [TikToks] in the store." The mirrored walls are certainly an inviting setup.
Arguably, the thirtysomething owners have been preparing for this moment for their entire careers. Today, they're among the industry's foremost curators of all things retro, their assortment often overlapping with the fashion trending on the short-form video app. Thanks to TikTok's algorithm, anything is fair game: ladies-who-lunch Pucci prints, Vivienne Westwood orb chokers, Courrèges vinyl jackets from the '70s. And as TikTokers resurface these long-ago trends and make them newly au courant, the brands themselves are finding ways to make them feel new again.
When Nicolas Di Felice took the helm at Courrèges in late 2020, his first gesture was reissuing the label's iconic vinyl cropped jacket in a rainbow of colors. The jacket had changed shape significantly since André Courrèges introduced it, Di Felice says: "It kept becoming boxier and boxier—it looked like a little cube by the end." Di Felice looked to Courrèges's original pattern, which was cut closer to the body. "It's a bit more fitted at the waist, and certainly has more attitude. It looks like you're a little [bit] biker."
He reinterpreted the accompanying A-line miniskirt and altered the fit to account for the way people's bodies have changed since the '70s. "I always say with Courrèges, you have to keep everything and you have to change everything," Di Felice says. "I never take a pattern as it was." He did revert to the house's original logo, in part because he wanted consistency between new items and the '70s ones in vintage shops today. Online, he sees young people gravitating toward classics like the ribbed-trim top with a tiny logo in the center. "I think it's amazing that our vintage and new pieces are mixing so well together on the same platform, and that most of the time it's the same woman or girl who wants to wear them."
Vintage dealer Olivia Haroutounian gained a cult following on TikTok (@reallifeasliv) for her deep dives into oft-overlooked early-aughts labels like Ema Savahl and Elisa Jimenez. "I like to cover designers who don't get as much recognition," she says. "TikTok has helped grow my business." These days, she sees "crazy Vivienne Westwood pieces," Gaultier, and Cavalli making the rounds on the app's ephemeral slide show of videos.
Posts tagged #vintage have been viewed more than 11.5 billion times, per TikTok, which also confirmed that those designers are trending. Westwood in particular has become one of the app's favorites, and this past fall, James Veloria devoted its special collection room to the designer. "We're delighted that new generations are discovering Vivienne's work," says Christopher Di Pietro, Westwood's global brand director, adding that young people "want to hear authentic voices speaking about issues that are important to them and not just trying to sell them the latest thing. Perhaps this is why Vivienne Westwood and her designs are so relevant on TikTok."
Giordano and Haroutounian both cite Blumarine, which has used its recent collections to play up its early-aughts aesthetic, as another standout. Ever since Nicola Brognano became creative director of the house in late 2019, he says, he's "wanted to show collections that talk about happiness, sexiness, freedom." The era is close to his heart because he was a teenager then. "It was natural to me to present [those years] to the Blumarine audience," Brognano says. "TikTok is making [it] very clear that I'm on the right track."
For spring 2022, he revisited the label's rose pattern and the BluVi cardigan. When designing, he says, "I always take into consideration the archive and the DNA of the brand." So far, he's succeeded by adding a wink of self-awareness. After all, when women get dressed, Giordano notes, "It's not so much about looking sexy for someone else, but about doing it for yourself and your friends."
Once upon a time, a Milanese designer would not have taken micro video clips into consideration when it came time to dream up a new collection. But TikTok has turned into a stock ticker of sorts—giving designers insight into how their archives are resonating, sellers the inside track on which collections might pop next, and buyers the scoop on stores like Giordano's. More broadly, it's upended the fashion industry's top-down structure: A 14-year-old influencer posting from her bedroom might now wield a Diana Vreeland–like influence on which items will be resurrected to "It" status.
Giordano and his partner Collin James Weber believe Stella McCartney–era Chloé will see a revival in the coming months. "We've been holding a lot of her pieces for a while because we're waiting for the right moment," Giordano says. ("It's almost ready," Weber adds.) But, in the ultimate irony, for all their store's popularity on TikTok, Giordano says, "I've actually never posted anything on the app."
This article appears in the February 2022 issue of ELLE.
This content is created and maintained by a third party, and imported onto this page to help users provide their email addresses. You may be able to find more information about this and similar content at piano.io