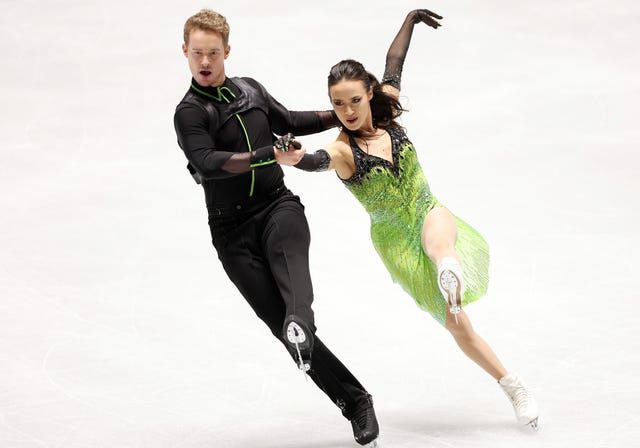 Atsushi Tomura – International Skating UnionGetty Images
Whether you're an Olympics super fan or more of a casual observer, we can all agree that figure skating is one of the buzziest winter Olympic sports. For many viewers, this is the first time they see the programs these skaters have been working on and competing with over the season. But unlike other disciplines in figure skating that feature a short and long program, ice dance is completely different. Which is why some new fans might ask: What is the rhythm dance?
Here's everything you need to know about the rhythm dance in figure skating.
What Is the rhythm dance?
In ice dance, couples compete with a short program at the beginning of the competition called a "rhythm dance." They then perform a second program called a free dance. In the free dance, couples can perform almost any genre and dance pattern that they choose, but the rhythm dance is slightly more restrictive.
The components change year after year and may include things like a requirement that the chosen music must come from a musical or operetta (which was the case during the 2019 to 2020 and 2020 to 2021 seasons) or the dance pattern must be the Tango Romantica with music that runs 120 beats per minute (which was the case during the 2018-2019 season).
What are the requirements for the rhythm dance at the 2022 Winter Olympics?
The rhythm dance requirements are determined by the International Skating Union (ISU). Even with a big competition like the Olympics, the components don't change between competitions, so couples are able to use the same program all season long.
Here are the requirements for the rhythm dance in the 2021 to 2022 figure skating season:
Couples must dance the midnight blues pattern;
Music must be between 86 and 96 beats per minute;
There must be a step sequence that follows the same midnight blues rhythm;
Program must include one short lift up to seven seconds;
Program must include one step sequence that uses a different rhythm than midnight blues;
Program must include one set of twizzles;
Music must be 2 minutes and 50 seconds, give or take 10 seconds;
Ladies are free to opt out of wearing a skirt and go with trousers if they prefer.
If all the couples have to do the same things, won't we see a lot of repetition on the ice?
Even with all these requirements, every couple still has a different ice dance style and taste. For example, Team USA's Madison Chock and Evan Bates will be skating to a Billie Eilish program while Kaitlin Hawayek and Jean-Luc Baker are skating to Donna Summer. So definitely expect to see a wide range of music genres and programs in this competition, even with the requirements!
This content is created and maintained by a third party, and imported onto this page to help users provide their email addresses. You may be able to find more information about this and similar content at piano.io