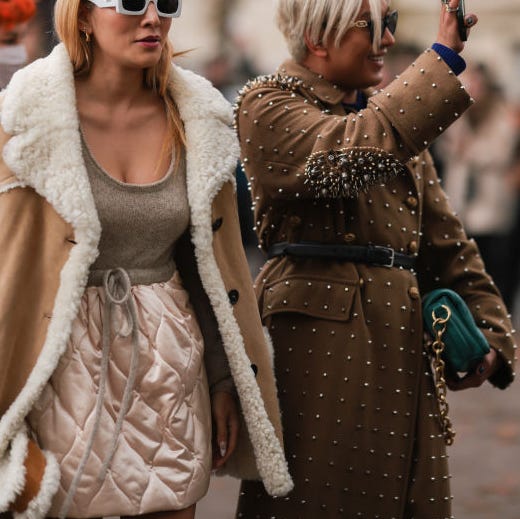 Jeremy MoellerGetty Images
Money can buy you happiness, excitement, a sense of achievement—honestly, just fill in the blank. When searching for the most exciting gift to give or get during the holidays, a fashion-lover really can't do better than seeing some very familiar letters on a garment tag, embossed on buttery smooth leather, spread across an insole…
We're talking designer with a capital D, and the more European, high-fashion, and covetable the better. It's not a time to mince words—or requests—so we're editing our wish lists with a more-is-more philosophy. Below, a spoil of riches that we'd really, really like to be unwrapping this season.
1
Large Roman Stud Inlay Leather Top Handle Bag
Sometimes hardware is all the label you need. Iconic studs are updated in a graphic grid pattern that's not to be ignored.
2
La Veste Paio Crop Genuine Shearling Coat
If you've spent years of your fashion-loving life hunting for the perfect shearling bomber jacket, look no more. This cropped style is absolutely worth adding to your holiday wishlist. 
3
Aliane Scalloped Linen Peplum Blouse
A slinky little tank so pretty it deserves air time in the cold months, too. We'd wear this right now layered over or under cashmere.
4
Small Cabata Patent Leather Tote
The perfect little tote that's not too small to actually be useful. That signature IYKYK red is slicked on the bottom and inside for extra bite.
5
Daos Water Resistant Corduroy Hooded Down Puffer Jacket
If you've seen one puffer, you definitely haven't seen them all. Rich, oversized corduroy takes this basic shape to a whole different level.
6
Fria Jumbo GG Faux Shearling Lined Slipper Bootie
There's nothing like a flex slipper, and this one is not playing around. Horse bit, oversized logo, high-rise silhouette—it's all too good.
7
Integrated Rose Puff Sleeve Cotton Twill Jacket
Before you relegate "army jacket" to the category of staid, closet classic, let's talk. This oversized, sculptural version is made for fashion-lovers.
8
Mini Daria Croc Embossed Leather Top Handle Bag
Some bags are workhorses, and others merely need to look good (and, okay, fit your phone). This bubblegum pink, croc-embossed mini with a braided handle is beyond addictive.
9
Les Mules Carres Ronds Genuine Shearling Mule
Neither mules nor shearling are going away any time soon. Double up with teddy bear slides that bring the cozy all the time.
10
Laxton Wool Twill Coat
Some things are just iconic. This closet classic becomes an even smarter buy in a very winter-friendly 100-percent wool.
11
Mini Jodie Patent Leather Hobo
The perfect little bag is basically a handheld party. Just imagine how good this bright pick will look clutched at the bar, on an island, dancing in some dark corner, etc., etc.
12
Oversize Oxford Button-Up Shirt
Let's be real. People are always talking about the perfect white button-down like it's easy to find, but it's not. Grab this one and never look back.
13
Crochet Low Top Sneaker
With zero doubt that the high-fashion sneaker trend is here to stay there's no reason not to invest in a few more pairs. Crochet makes this one stand out from the crowd (and look so comfortable).
14
Mae Tie Bodice Midi Sundress
The only way that unwrapping this super-sunshine pick would be more appealing is if a plane ticket somewhere warm happened to be tucked inside.
15
Large Woody Logo Strap Genuine Shearling Tote
Just when you thought you couldn't possibly fit another tote in your closet, you wonder… "But, do I need one in shearling?" Yes, yes you do.
16
Deomina Chain Spike Pointed Toe Pump
Sexy and elegant at the same time is a neat party trick. These classic stilettos nail both with a firetruck-red sole and foot-flattering expanse of chain.
17
Tiered Ruffle Embroidered Cloque Midi Skirt
Versatile and statement-making, this embroidered midi can be worn with a sweater now and a tank come spring and summer.
18
The Chain Cassette Intrecciato Leather Crossbody Bag
The. Dreamiest. Double-faced nappa leather and a hulking, oversized chain ensure this bag is not your average crossbody. 
19
Country Waxed Cotton Canvas Jacket
The designer way to do a waxed-cotton barn jacket? Well, get the designer version. A boxier, sculpted cut makes this one stand out from the pack.
20
Trip Horsebit Rain Boot
No matter where you live or vacation, you literally need a pair of rain boots. This high-shine, wide-cut silhouette is so eye-catching we'd wear them in sunshine too.
21
Ksadia Oversize Space Dye Merino Wool Sweater
A sweater that looks like it's been through the ringer and emerged even chicer on the other side is a fashion dream. Flawless fraying gives a cool grungy touch.
22
Mon Faux Shearling Mule
The shearling slide market just got served with a rich pick from a heritage house known for its ultra-warm, ultra-luxe materials.
23
Naima Check Jacquard Mohair & Silk Blend Sweater
Like a classic camel sweater, but better. This pick mixes iconic checks with an ultra-fuzzy mix of mohair, Mulberry silk, and wool.
This content is created and maintained by a third party, and imported onto this page to help users provide their email addresses. You may be able to find more information about this and similar content at piano.io