You're on your own, kid.
At least that's what millions of Swifties are being told by Ticketmaster after the ticket conglomerate fumbled the sale of Taylor Swift's The Eras Tour.
Swift's highly anticipated tour has been met with 'unprecedented' demand and it seems Ticketmaster cannot keep up with the fervent demand for tickets.
READ MORE: Neighbours stars reveal how they found out about iconic Aussie soap's revival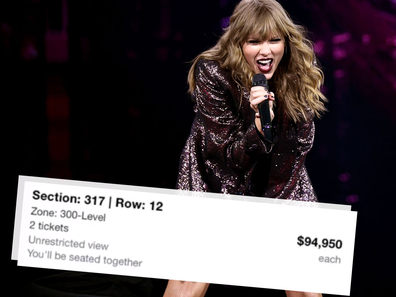 When presale tickets went on sale at the start of the week, fans were met with horror.
There were eight-hour queues to log into Ticketmaster and once they were in – if they hadn't been booted from the queue thanks to a website glitch, that is – they were met with jaw-dropping prices. 
Tickets in nosebleed sections were already inflated by hundreds of dollars, VIP tickets guaranteeing floor seating were selling for upwards of $USD1000, and thanks to Ticketmaster's dynamic pricing scheme, some tickets were even listed as high as $USD90,000 ($140,000).
READ MORE: Fans shocked when they realise who's underneath this wig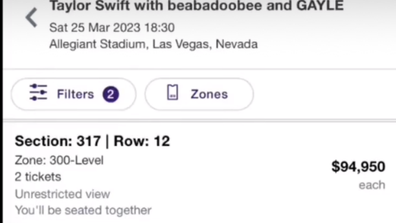 After two days of Verified Fan and Capital One presales, the tour has already been estimated to have grossed $USD340 million ($507 million), making it the highest grossing tour in history – and general sale tickets haven't even gone on sale yet.
To add insult to injury, this morning Ticketmaster announced the highly anticipated general ticket sale was effectively cancelled after running out of ticket inventory.
This means the ticket conglomerate had mistakenly sold the majority of the tour tickets during the presales. 
READ MORE: Grey's Anatomy's Ellen Pompeo breaks silence on shock exit
While a miscalculation in ticket sales could be forgivable, it is the company's fan-described "predatory" dynamic pricing scheme that has ticket buyers outraged.
Ticketmaster introduced the pricing system a few months back and was met with immediate backlash.
Essentially, more demand means more inflation on ticket pricing. This is supposedly to stop scalpers selling tickets, but there is no hard evidence that this system truly removes scalpers from the live music equation.
READ MORE: Last surviving Hogan's Heroes star dies
Young Taylor Swift fans have even gone as far as opening up credit card accounts to access the Capital One presale, and some have even put themselves into debt buying inflated concert tickets for a chance to see their idol.
Cece says Ticketmaster does not feel like the 'fan first' platform it claims to be. 
"It's frustrating, I waited hours in a queue to be just met with pricey VIP packages," Cece tells 9Honey.
"I've been to every Taylor Swift tour but these prices were outrageous."
READ MORE: Freddie Prinze Jr. reveals moment he fell in love with wife
Cece also felt blindsided by hidden fees at the end of her transaction.
"Whilst I did get tickets, a glitch in the system meant I did not see the extra fees for the tickets until I checked out and they were exorbitant," she says.
"When I saw Taylor Swift back in 2009, my ticket was just $USD70 ($104) and I also paid just over $USD100 ($150) for floor seats back in 2014."
Similarly, another fan who required disability accessible seats was met with a $USD6000 ($8947) price tag for tickets.
READ MORE: Grammy's 2023 full list of nominees
The general mood of fans is "heartbreak" and "disappointment" as they feel priced out of tickets thanks to scalpers and dynamic pricing.
Taylor Swift fans aren't the only music-lovers to feel the sting of dynamic pricing, when Blink-182 announced their highly anticipated comeback tour, American fans were shocked when ticket prices rivaled their monthly mortgage payments.
In response to the ticket fiasco, yesterday Tennessee and North Carolina's Attorney Generals announced they would be investigating consumer complaints of price gouging concert tickets.
For a daily dose of 9Honey, subscribe to our newsletter here.