Quite unusually, both Alibaba and Sea Ltd. published their latest quarterly results this week, after the Chinese giant cut projections and delayed the publication by two weeks earlier in November.
And they do make for a relatively grim reading, after it missed targets for two straight quarters and slashed its forecasts for the entire FY2022.
While much of the company's problems are down to a slowdown in China and the political crackdown on the country's digital megacorporations by Beijing, the company has fared equally poorly abroad.
Alibaba hits the ceiling
Its sales on the mainland are still strong, but appear to have hit a limit.
The company posted a YoY increase of 33 per cent for Chinese retail but at 126.8 billion RMB, it is 6.7 per cent down from the quarter ending in June, when its revenues peaked at 135.8 billion RMB.
It's a similar story abroad, with revenue down to US$1.61 billion from US$1.67 billion in the previous three months — a decline of around 3.6 per cent.
In fact, Alibaba has been at the same level of around US$1.5 to US$1.6 billion per quarter since the beginning of 2021, which indicates it has reached limits to its growth outside China at a time when competitors are making rapid progress.
Meanwhile, Shopee's parent company, Sea Ltd. has just posted US$1.5 billion in revenue for Q3 2021, up by 134.4 per cent year-on-year and 25 per cent quarter-to-quarter (from around US$1.2 billion in Q2).
Given the trajectory into Q4 2021 and the fact that it has been adding US$300 million to US$400 million per quarter this year, it seems certain that Shopee has either closed that tiny remaining gap or already surged past Alibaba.
Unlike its Chinese competitor, Sea Ltd. upped its projections for the entire year for the second time.
Last quarter, it expected up to US$4.9 billion in e-commerce revenue and this quarter's guidance puts it at between US$5 billion and US$5.2 billion for full 2021 — though given its current pace, it may very well beat expectations again and even US$5.5 billion is not beyond the realms of possibility.
This is particularly likely given its recent entries into new markets in Europe and India, which — even if small — will add to the company's revenues during the typically busy end of the year.
Future is not without bumps for Sea
While these results may suggest that the company is doing exceedingly well, we can't forget that its business model relies on the profits generated by the digital entertainment arm of Garena, which offsets some of the costs incurred by growing Shopee and Sea's other services.
As you can see below, after witnessing a boost in bookings during the pandemic, Garena's growth appears to be normalising, what may have knock-on effects on Shopee's growth as well.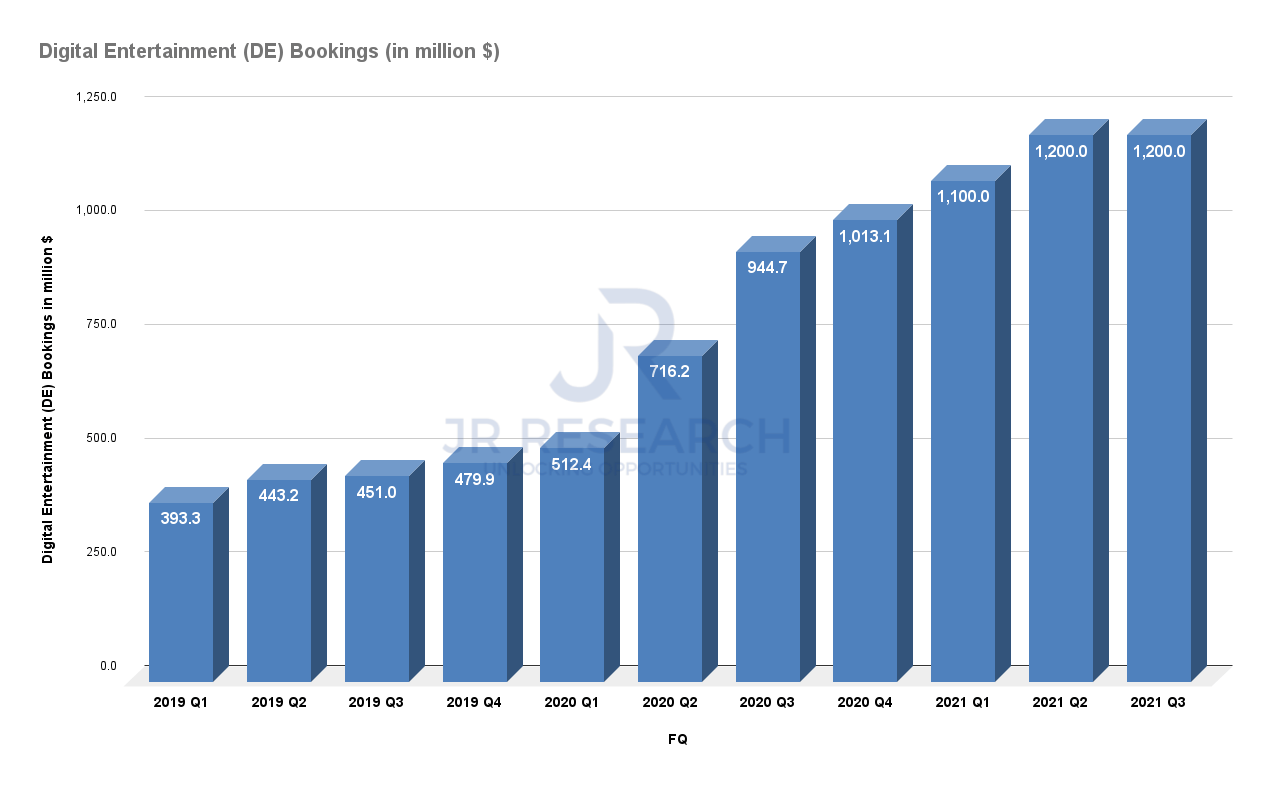 Should the digital entertainment business suffer a drop in profit margins (heaven forbid), then overall performance of Sea can be hurt quite badly — and rapidly — as the company keeps losing money in pursuit of the market share elsewhere, particularly in e-commerce.
It still has pretty deep pockets at the moment, given its market capitalisation, which has skyrocketed in the past two years and currently sits at US$170 billion (with guidance of well over US$200 billion by the likes of Bank of America, Citigroup or UBS).
Thanks to it, it was able to raise nearly US$9 billion in the past year alone and currently boasts around US$11 billion of cash in hand.
That said, progressing normalisation of life with Covid-19 around the world is likely to cool growth of digital services, which have received an enormous boost with billions of people stuck in their homes during the pandemic.
The immediate future still looks bright, with expected e-commerce revenue boost of further 51 per cent in 2022, what would bring it to over US$7.5 billion.
That said, gaining a stronger and more profitable foothold in more developed markets (e.g. in Europe) is likely going to cost the company dearly in the coming years, while it is still competing for market share in Asia and Latin America.
To handle all of them successfully, it needs to start turning a profit among its most mature customers and offload the burdens borne by Garena in the past two years.
Undoubtedly, Sea has used the opportunity Covid-19 has presented to its absolute maximum, reinvesting everything it could to ride the wave. It's now about reinforcing these gains and the next two are likely to show us just how stable and lasting Shopee's presence around the world is going to be.
---
Get $20 off your order on VP Label when you checkout with Pace and the code PACEVP20 (min spend $80). Discover and shop exciting homegrown brands now:
Featured Image Credit: Reuters