The sudden death of Australian sporting legend Shane Warne has shocked the nation.
The former cricketer died of a suspected heart attack in Thailand, aged 52, his management confirmed late on Friday night.
Fondly known as 'the king of spin' and 'Warnie' — the cricketer has left behind a remarkable legacy as one of the the most influential figures in Australian sporting history.
Yet, while his role on the pitch has been publicised, Warnie has played an equally important role off the pitch — a loving father to his three children: Brooke, 24, Jackson, 22, and Summer, 19.
LIVE UPDATES: Cricket legend Shane Warne dead at 52 – reaction from around the world as tributes pour in
'I love you up to the sky and back'
The sporting legend shares his three children with Simone Callahan, to whom he was married for ten years before they divorced in 2005, and Brooke Warne is Shane and Simone's eldest child, born in 1997.
The 24-year-old has showcased her tight relationship with her father in photos posted to social media, as has Shane himself.
Shane previously reflected on his relationship with his eldest daughter in a touching tribute for her 24th birthday writing, "Happy 24th birthday to my eldest daughter Brooke!"
"I love you up to the sky and back and am very proud of you everyday."
READ MORE: How Shane Warne captivated a generation
'So proud of my son'
Shane never shied away from letting the world know how proud he was of his children, and after 22-year-old Jackson Warne starred in SAS: Who Dares Wins in 2020, Shane congratulated him for his efforts.
On Instagram, Shane wrote, "So proud of my son @jacksonwarne18 for pushing himself so hard on @sasaust7 !!"
"Thank you to @antmiddleton and everyone who supported Jackson on his amazing journey. I'm so glad everyone got to see what a wonderful, caring and thoughtful young man Jackson is. Love you so much."
READ MORE: Ten of the most celebrated memories of Shane Warne's legendary cricket career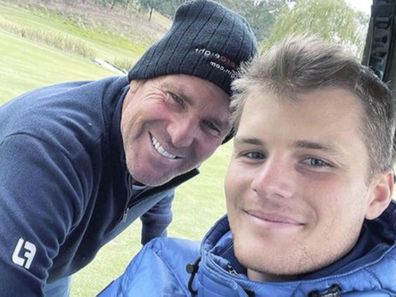 In a new Amazon Prime Video documentary, simply titled Shane, Jackson looked back on his Dad's incredible career and his legacy, saying, "I can appreciate the sacrifices he made when we were younger, for him to be Shane Warne — who he is today."
Jackson himself did try cricket for one year, but said he felt the pressure to live up to his dad's legacy.
"The whole pressure factor… I could never be that good, I could never try to be that good," he told news.com.au in 2019.
"The pressure and expectations… I just was not really interested, but when we were going through school, it didn't matter what we wanted to do, Dad just wanted us to be happy."
READ MORE: Pat Cummins' moving tribute to 'all-time favourite' Shane Warne
'They inspire me to be the best person I can'
One of the sacrifices Shane had to make as a father was joining his youngest child, 19-year-old Summer, in her "silly" TikTok videos.
Summer and Shane have debuted some hilarious TikToks on the teen's account. Summer even revealed that she often gets asked questions about her Dad's cricket career like, "Can you bowl leggie?"
Shane has publicly professed the adoration he has for his children writing, "My children fill me with laughter, joy, and above all — love. I'm so proud of them. It's difficult to describe the love you have for your own children, but it makes you smile every time you look at them."
READ MORE: Shane Warne's life in pictures – From Victoria boy to Aussie 'Spin King'
In a heartfelt Instagram he said that despite their ages, he will always see them as kids and that they are his "number one priority and always will be."
"They inspire me to be the best person I can & motivate me on a daily basis. I love being a father (Even if it means saying yes to silly TikTok videos 😂😂)."
READ MORE: Mick Jagger mourns 'greatest spin bowler ever' as famous faces pay tribute to Australian sporting legend Shane Warne
"I remember coming home after cricket or work when they were little and the 3 of them would come running and jumping up on me for a cuddle and yell — Daddy. Wow !!! Brooke, Jackson and Summer you inspire me daily," he continued.
"I love you up to the sky and back ! ❤️"
Warnie's memory lives on in his three young children.
For a daily dose of 9Honey, subscribe to our newsletter here