Whether you're into sports or not you've probably heard of Sam Kerr and Kristie Mewis by now, the power couple now followed by a well documented love story.
Despite this, there are never too many details and in conversation with Gaffer the couple opened up about the early days of their love. Despite having played against each other on the field, Kerr confessed that they only really became acquainted via Instagram DMs.
"It was about three or four months until we could hang out in person," said Kerr.
"The first time we ever met there was quarantine so we had to spend two weeks together the first time we met. I was thinking if I don't like her this is going to be awkward."
"But we knew, we knew it was going to be good," Mewis said.
READ MORE: Paris Hilton secretly welcomes first child
After the Aussie Matildas were defeated by Team USA – who claimed the Olympic bronze in women's football – a sweet shot of Mewis, 30, embracing Kerr, 28, on the field sparked rumours of a romance between the country-crossed lovers, rumours that were eventually confirmed. The couple is still going strong almost two years later.
The couple are well-known for their insane athletic abilities, but beyond their skills and individual popularity, their fame as a couple has been on the rise.
"I get more fan mail about me and her than just for myself because I think people find it interesting or really relate to us," Kerr said.
"I go to games and I have so many amazing things, drawings or stickers that people make of us. It's nice that people support us so much and relate to us so much."
Despite this, concerns that people won't take them seriously during competition time plays on the mind of the couple.
"I get more fan mail about me and her than just for myself because I think people find it interesting or really relate to us."
"The only pressure that I feel which isn't really pressure and I don't know if she feels the same but I think there's this part of us where we're both separate athletes and when we compete against each other there's this worry that people don't think we don't take it seriously because you're playing your girlfriend," Kerr explained.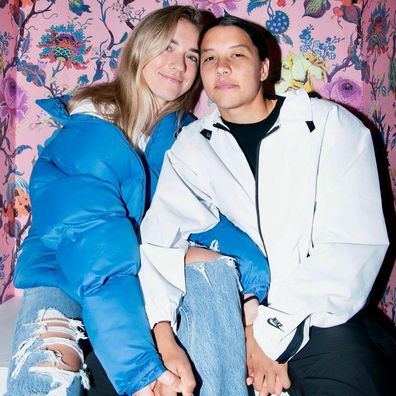 Mewis highlighted that despite any concerns, her pride in her relationship and the potential power in the publicity of it was something she valued a lot.
"I think just being out and being two girls in love, I think if we can change one or two people's lives and the way that they feel about each other and how comfortable they feel, then that means a lot to me," she said.
"I love to share my relationship on social media. So I think if we can change the way one or two people feel about themselves, they can look at us and see that we're happy and we're trying to be as successful as we can and we're an out gay couple. I think that that's so important."
For a daily dose of 9Honey, subscribe to our newsletter here.