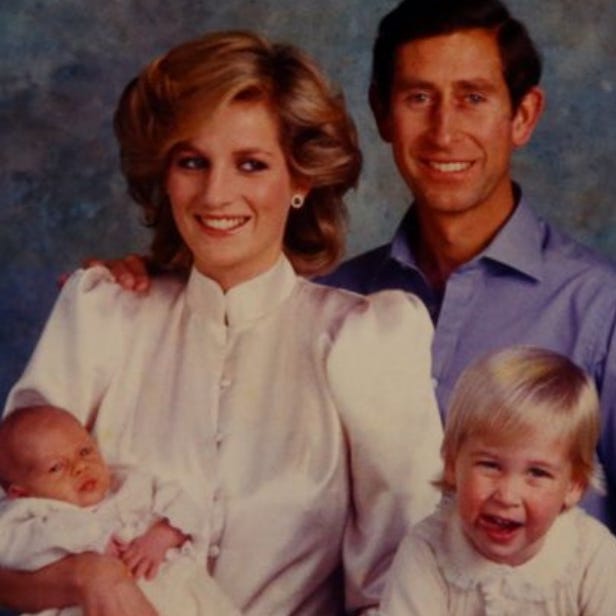 InstagramAP
Like many people who are way less lazy than me, the royals send their friends and acquaintances Christmas cards during the holidays. And they've been doing so since at least the early 1900s, when the cards were less "merry and bright" and more…well, haunted, if I'm honest. (Seriously, don't look King George directly in the eyes in that pic from 1914, it's likely cursed.)
While not every royal family Christmas card is available to the public, a lot of them have been shared with us non-royals over the years. Plus, once the Queen & co. joined Instagram, they started posting their Christmas cards to social media—even scheduling special shoots just for their holiday portrait purposes.
Check out the best royal Christmas cards throughout the years—from Queen Elizabeth's time as a mere princess, to Kate Middleton and Prince William's cozy family pics, to Prince Harry and Meghan Markle's very first card as a couple, to literally 1,000 photos of Camilla and Charles (and of course, a few of Charles and Diana before their split), to the first card drops of 2022!
Advertisement – Continue Reading Below
A very casual Christmas card from Queen Mary and King George to the British troops. Truly, the Christmas haunting CHEER is evident!
Yep, that cute little girl is then-Princess Elizabeth—who went on to become Queen Elizabeth, aka Prince Charles' mom, double aka Prince Harry and Prince William's grandma. This is her holiday card to the Grenadier Guards regiment of the British Army, in case you're curious!
I, for one, am feeling very seen by how confused Prince Charles looks in this photo with his parents and Princess Anne.
The royals switched to a more laidback vibe for their 1957 Christmas card, featuring Prince Charles playing with two very good and festive boys.
What, you don't pose with your boat at Christmas?
Would bet literal money that this photo of Diana and Charles with Prince William and Prince Harry was taken at a local JCPenney. I know that background anywhere.
Confused about why my family's photos from the 1980s didn't turn out this cute? I demand a re-do.
This 1991 Christmas card (top) was taken five years before Charles and Diana's divorce in 1996. Sadly, the 1997 card was sent out the year Diana tragically died in a car crash in late August.
Here's a look at Prince Charles' personal Christmas card from 1999, featuring him with Harry, William, and a striking pair of knee-high leather boots.
Charles and Camilla used this photo from their wedding as their official card in 2005—and psst: if you're wondering who those people next to Camilla are, they're her kids Laura Lopes and Tom Parker Bowles.
Charles and Camilla went super OFFICIAL for the 2012 photos, subtly reminding everyone that they are, in fact, royal. In case you forgot!
I can only assume that the decided upon theme of this one was "hats."
Look, Charles and Camilla release a lot of holiday cards and love nothing more than staging them in Christmas trees and then sharing them with the world. It is what it is!!!
This year, Charles and Camilla decided to give their card recipients a slightly more intimate look at their 'ship. Love a royal PDA moment!
Charles and Camilla chose a pic of their royal tour of Croatia in 2016, and yes: they once again shoved the card in a Christmas tree for good measure.
Sorry, not done with Charles and Camilla in a tree yet! Here's the royal couple at Camilla's private 70th birthday party, which none of us were invited to.
Florals? For Christmas? Honestly…groundbreaking.
Nothing screams "the holiday season" quite like posing in front of a massive stack of logs!
How! Cute! Are! They!!! 😭
Advertisement – Continue Reading Below