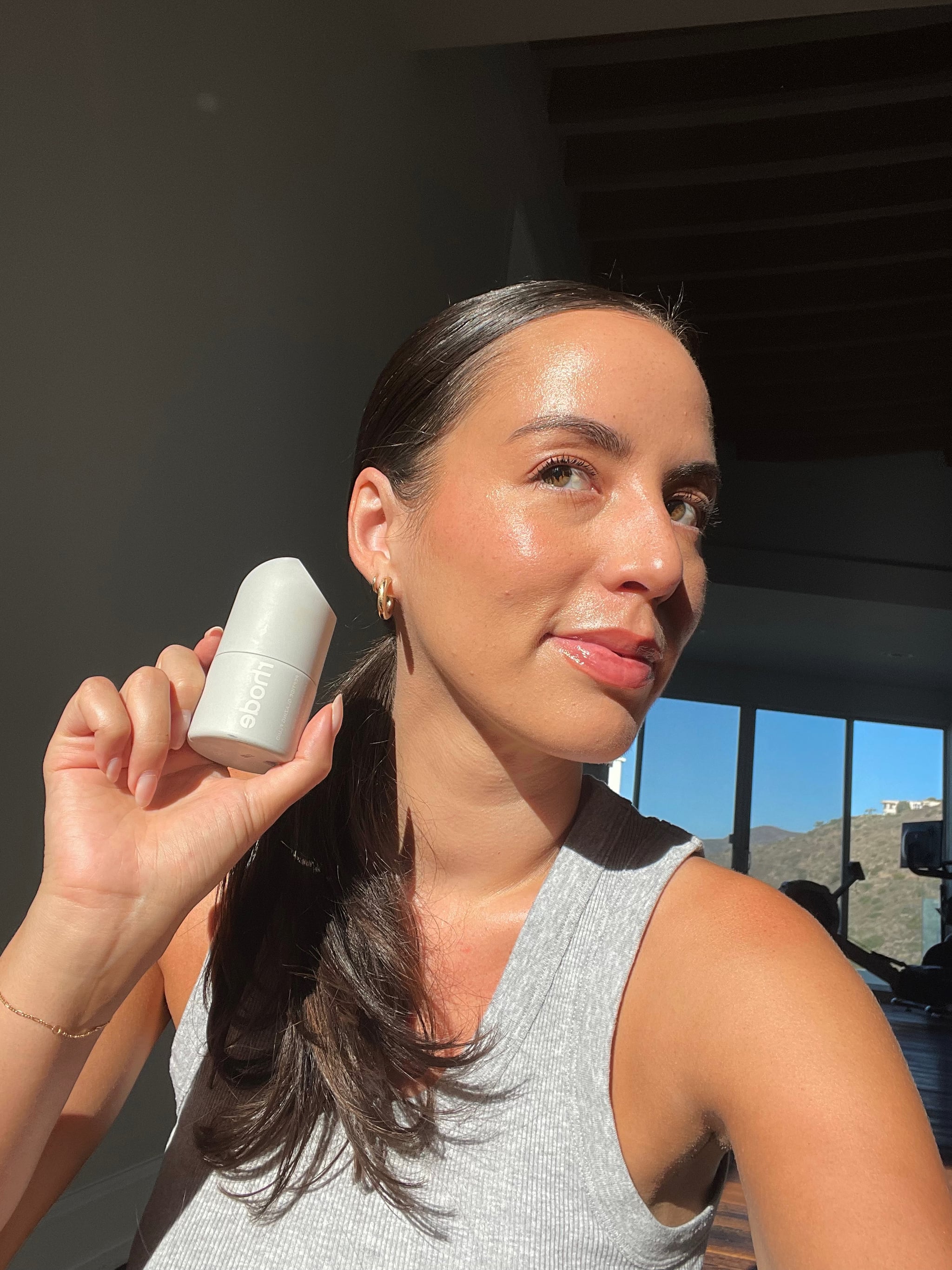 Image Source: POPSUGAR Photography / Renee Rodriguez
Hailey Bieber recently shared a second use for the popular Rhode Peptide Glazing Fluid.
To test the hack, you need the Rhode Peptide Glazing Fluid and a beauty sponge.
Our editor tested Bieber's hack for herself and is sharing her results.
I'm sure I sound like a broken record at this point, but I f*cking love Hailey Bieber. I love her style and all of her outfits, I love her hair and the way she sports a slicked-back bun so well, and of course, I love her makeup and glowing skin. (Obsessed much?) The model recently launched Rhode, a skin-care line that aims to help everyone achieve her signature glow, with three core products: the Barrier Restore Cream, the Peptide Glazing Fluid, and the Peptide Lip Treatment. I quickly fell in love with the lip treatment after using it just once, and the other products in Bieber's line have been so popular, they've sold out numerous times.
The product that has been hailed as the true reason for Bieber's constant glow is the Peptide Glazing Fluid ($29), a hybrid serum gel made with niacinamide, peptides, and hyaluronic acid. Although the product is first and foremost meant to be used for skin care, Bieber recently shared on TikTok another use for it, and it involves layering it over makeup. Interested to see whether I could double up on my glow by using the product before and after makeup, I decided to give it a try for myself.
@haileybieber

@rhode restocks all products tomrorow at 8am pst 😍🤍 here's a few ways i've been using my rhode: a light layer of glaze over foundation for that skin like finish.. combining the peptide lip treatment with my favorite lip liners. ✨
I'm all about glowing skin, no matter how it's achieved. I have naturally dry skin, so I'm always looking for products that boost hydration and leave my skin sparkling. Skin care that makes me glow is a necessity, but I'm also happy to layer on glowy SPF products, tinted moisturizers, and shimmering highlighters if it means my skin will look practically glistening. I don't wear a full face of makeup very often, but when I do, I can guarantee you will not find a single area of my face that's matte.
To test Bieber's hack, after completing my skin-care routine, I started out by putting on a layer of base makeup, including my foundation, contour, concealer, and blush. From there, I finished off with my eyeshadow and mascara, and I also put on a little lip liner. (Which I of course finished off with the Peptide Lip Treatment for the perfect shine.) I skipped out entirely on highlighter because I wanted to see if Bieber's trick actually worked.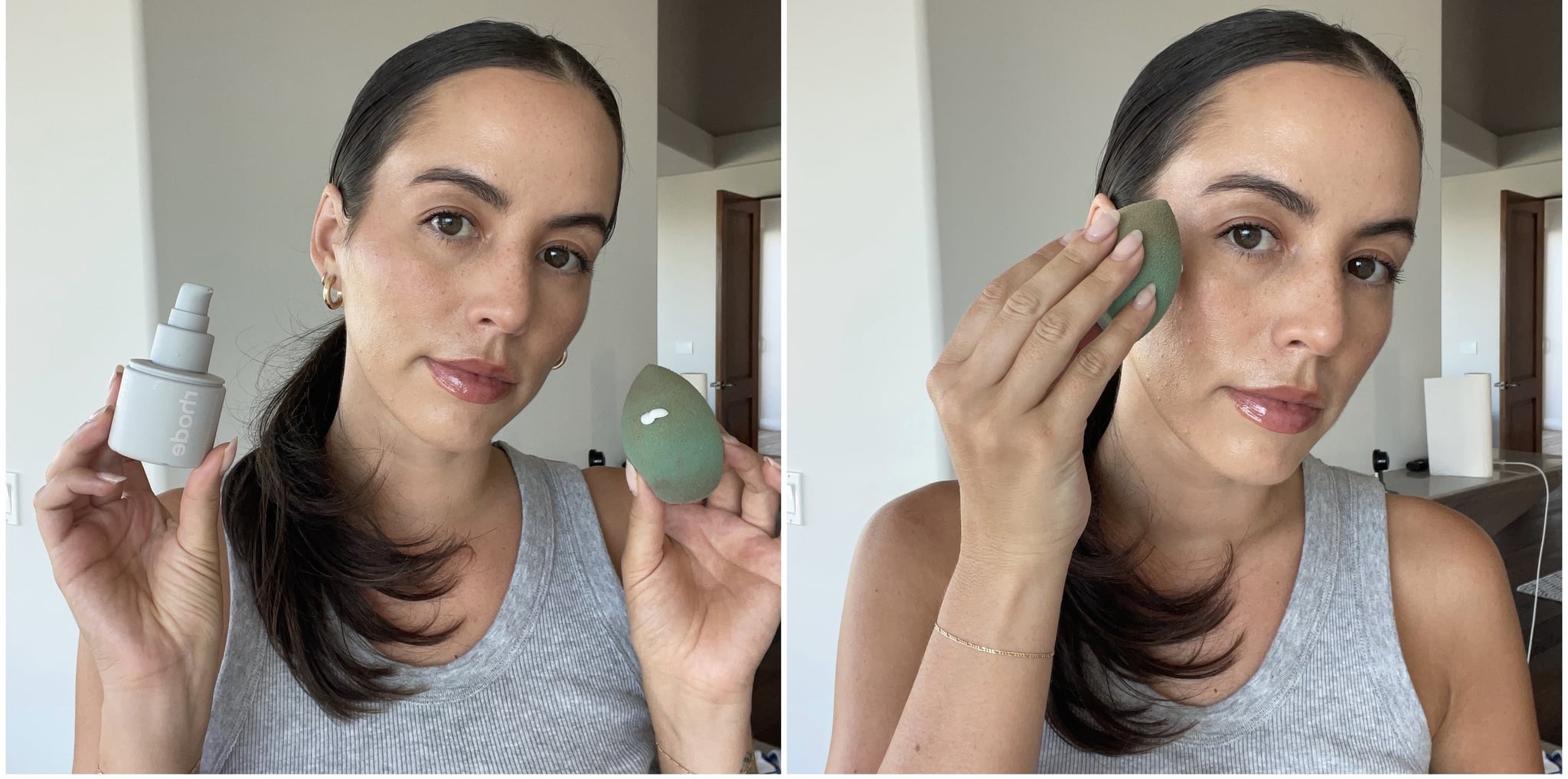 Image Source: POPSUGAR Photography / Renee Rodriguez
After grabbing the Rhode Peptide Glazing Fluid, I added some of the product to a damp beauty blender. From there, I dabbed it on the high points of my cheeks, above my brow bone, and down my nose. When I stepped back to survey the results and saw how well it highlighted my skin, I genuinely considered just dabbing it all over my entire face, but I was able to restrain myself.
The bottom line: Bieber's hack definitely works, and I absolutely loved the way it made my skin look. I've also tested her hack when I haven't been wearing any makeup at all, and it works just as well. It's been the perfect final step in my skin-care routine when I want a little extra dazzle without needing to add a highlighter or any makeup. If you were able to get your hands on the Peptide Glazing Fluid, definitely give this a try — you won't be disappointed.