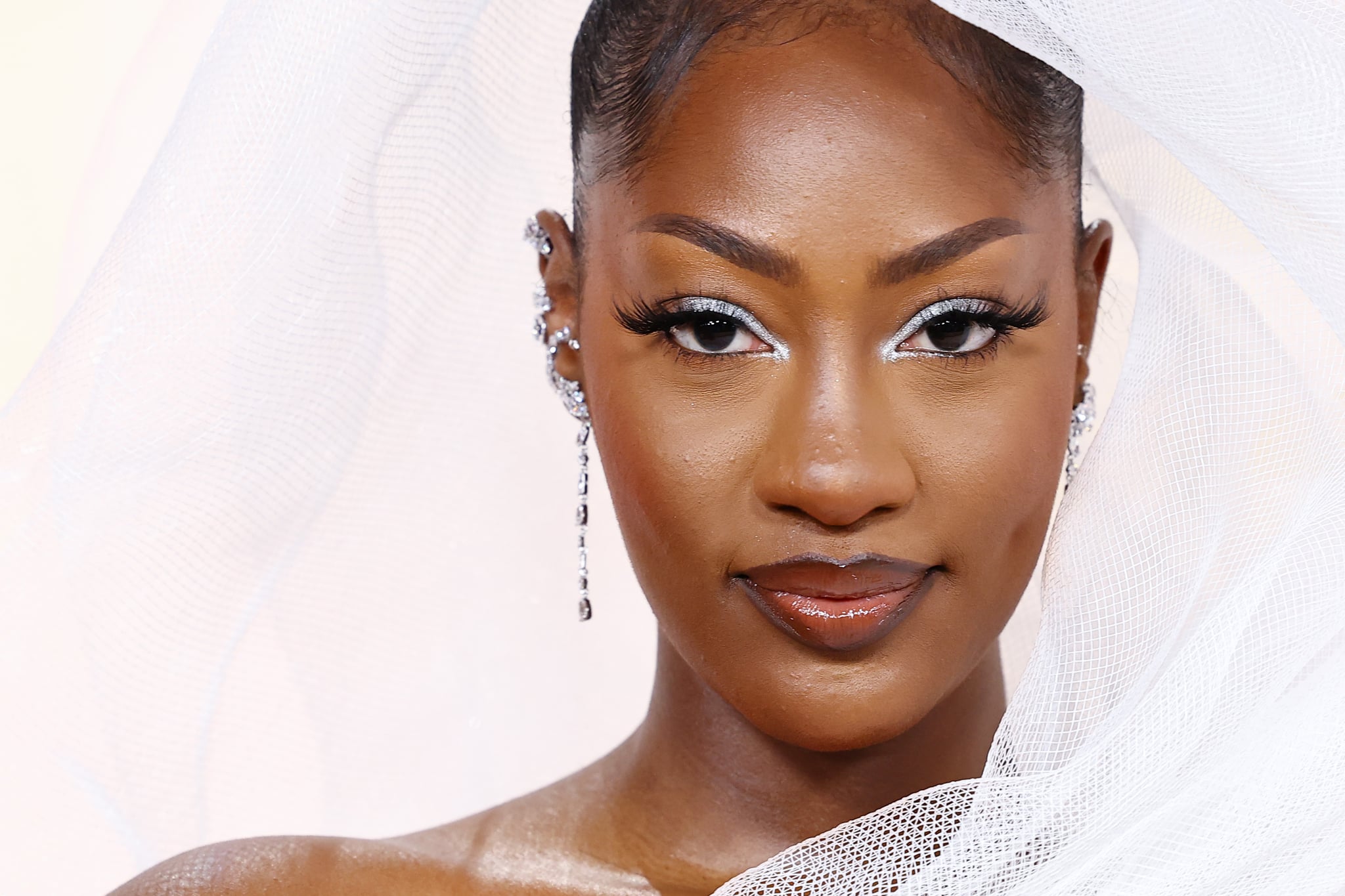 Image Source: Getty/Arturo Holmes
Some makeup looks are classics — a cat-eye look, a bold red lip, and a smoky eye — but sometimes it's fun to reimagine those exemplars. After all, makeup trends in 2023 are all about pushing boundaries and stepping outside of the box. The many different graphic eyeliner shapes that we've been seeing on and off the red carpet are great examples of that, but the "reverse" smoky-eye trend might be our favorite, because it does just that with eyeshadow.
A traditional smoky eye involves dark eyeshadow shades, usually brown and black, applied to the eyelid in the crease and at the lash line in a C-shape. The result is a dramatic, sultry eye. In contrast, a "reverse" smoky eye brings light to the eyelid for the opposite effect.
"The beauty of the 'reverse' smoky eye is that you are swapping where you would traditionally put the dark colors," celebrity makeup artist Vincent Oquendo tells POPSUGAR. This creates an effect similar to the "angel eyes" makeup trend, which looks ethereal and dreamy. "[I like to] play with matte versus shimmers to create subtle depth in my client's eyes. I might use a matte color on the lids and a shimmer in the inner corner."
How to Do a Reverse Smoky Eye
"Start with a light or white pencil and smudge it on the lids and inner corner of the eye," says Oquendo. He likes to use a long-wearing eyeshadow pencil, like the Shiseido Kajal InkArtist 4-in-1 Liner ($25) in "Kabuki White" or the NYX Cosmetics Jumbo Eye Pencil ($6) in "milk." Next, set it with a beige, cream, or light gray eyeshadow — matte or shimmer works. Oquendo likes the Haus Labs Hy-Power Pigment Paint ($24) in "Charcoal Shimmer," a metallic deep gray.
"To add depth, use your contour color or a taupe in your crease and sweep it around your lower lash line," he says. Pro tip: your bronzer can double a natural-looking tan eyeshadow. To brighten up the look even more, add some shimmer to your inner corner. If you want, add a thin line of liquid eyeliner and finish with mascara.
This type of eye makeup pairs great with a minimal base and lip. "When creating a look like this, it's very important to bring some color back to the cheeks so you have a healthy, fresh look to your makeup," Oquendo says. He likes the Haus Labs Color Fuse Blush ($38). It's a trend you can wear for special events or a regular day at work.