Rebecca Gibney has lovingly remembered her father on the 40th anniversary of his death.
The Aussie icon, 57, penned the heartfelt tribute to her late dad, Austin, on Instagram as she shared a throwback photo of him and her mother, Shirley. Austin died suddenly in 1982 at the age of 51.
"40 years ago today we said goodbye to you Dad," she began her message. "If only you had known how loved you were – how we all desperately wanted you to be the Dad we knew you could have been."
READ MORE: Georgina Rodriguez's friend says she's remaining 'very strong' after losing newborn son with Cristiano Ronaldo
"I choose to remember the good times. The Sunday roasts, the music and the laughter. As Irish as they come. ☘️ 🇮🇪 And I can feel that in my bones. Love you Dad. And still miss you even after all this time. ♥️"
Gibney, the youngest of six children, has made no secret of the fact her father battled with sobriety when she was growing up. In a previous interview with Woman's Day, she said she would regularly witness him abusing her mum, who would try to hide the abuse from Gibney and her siblings. 
READ MORE: Little Britain star Matt Lucas says he was 'thin-shamed' by a stranger at soccer game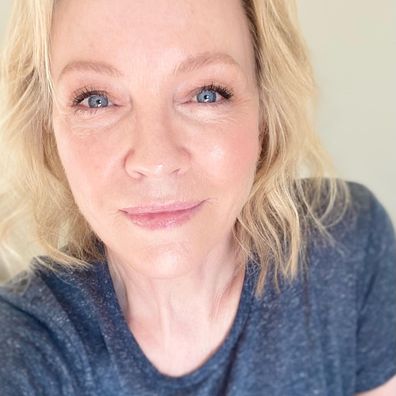 "She'd always shut the doors," the Packed to the Rafters star said. "So you'd hear the yelling and the shouting and the slapping, but you'd never actually see it."
"I saw a psychiatrist twice a week. I was on valium and in a dark place for quite a while,' she added of the lasting effects her traumatic childhood brought. 
The past has only strengthened her bond with her mother, with Gibney often praising her on Instagram. In previous posts, she has called her "the most incredible woman on the planet" while saying "the world is a kinder place because of her". 
Gibney's most recent post about Shirley came two weeks ago when she announced her beloved mum was in the hospital.
"Shirls in hospital again gang and given she (and I) are great believers in the power of divine intervention – I'd love as many collective positive energies sending love and healing my beautiful mums way," the actress wrote on Instagram.
"She's a fighter is our Shirl and apparently she's already made new friends in hospital along with the glorious doctors, nurses and carers at Prince Charles that make her feel so special. Love you mum – and I know you'll feel the collective love coming your way."
For a daily dose of 9Honey, subscribe to our newsletter here.