Pete Davidson has officially departed Saturday Night Live.
After eight years on the NBC comedy sketch show, Davidson announced he would be leaving after the production ended its 47th season last night.
The 28-year-old comedian, who does not use Instagram, penned an emotional statement via his friend Dave Sirus' account.
READ MORE: Dame Deborah James has a rose named in her honour: 'I actually cried'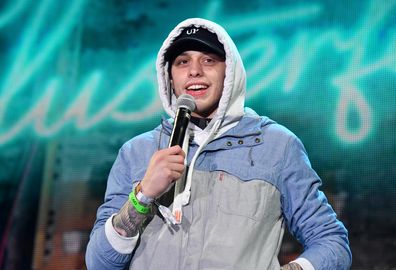 Davidson posted the statement alongside a video of him hugging fellow comedian, Jerrod Carmichael: "This video was taken 8 years ago. Jerrod sent it to me last night and it made me super emotional in the best way."
"In the video I had just gotten back from doing my very first update and sketch," Davidson said of the video. "It's crazy to think that today I'll be doing my last one."
The comedian reflected on his early experience on the show, admitting that he had "no idea" what he was doing.
"I wasn't really a sketch performer I was just a stand up," he continued.
"I knew I could never keep up or go toe to toe with a Kenan Thompson or a Kate McKinnon so I was super scared at figuring out what I could possibly bring to or do for such a historic, respected show and platform."
"I figured since I'm a stand up I'll just try my stand up and personal bits on Weekend Update as myself and I'm so glad I did."
READ MORE: Khloé Kardashian shares sneak peek of Kourtney and Travis Barker's third wedding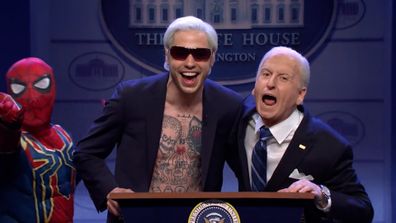 Davidson expressed his gratitude for the show, saying he "got to share so much with this audience" and "literally grow up in front of your eyes."
"We were together through the good and the bad, the happiest and the darkest of times," he continued. "I owe Lorne Michaels and everyone at SNL my life. I'm so grateful and I wouldn't be here without them."
Davidson thanked his cast mates for "always having [his] back" and "sticking up" for him through hardship.
"Thank you for teaching me life values, how to grow up and for giving me memories that will last a lifetime," he concluded. "SNL is my home. I'm so happy and sad about tonight's show. For so many reasons I can't explain. Can't wait to be back next year in a Mulaney musical number."
He signed off on the emotional tribute writing, "Resident young person Pete Davidson."
Davidson is not the only Saturday Night Live cast mate departing, with Aidy Bryant, Kate McKinnon and Kyle Mooney also exiting.
Davidson was one of the youngest members of the cast and was the first castmate to be born in the '90s.
Throughout his time on the show, Davidson has starred in some iconic sketches, most notably with his now-girlfriend Kim Kardashian.
In October 2021, the reality star took the stage for her hosting gig and featured in a scene alongside Davidson where the pair locked lips as the characters Jasmine and Aladdin.
READ MORE: Sharon and Ozzy Osbourne's eldest daughter survives deadly fire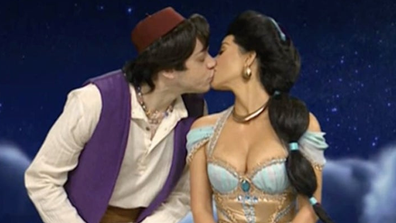 "When we kissed, I was just like, 'Hmm!'" Kardashian said on the Not Skinny but Not Fat podcast in April.
"It was a stage kiss, but it was still like, a little zing. It wasn't anything like a super, crazy feeling. I was just like, 'Hmm,' and then I was like, 'Wow, I really haven't kissed anyone else in 10 years, so maybe I'm just like being stupid and it's just nothing and it's just a stage kiss."
Kardashian was officially linked to Davidson in November 2021 via Page Six — when the outlet reported the duo were indeed a couple.
In recent months, the duo have confirmed their relationship is thriving in numerous loved-up social media posts, in addition to several recent red carpet moments.
For a daily dose of 9Honey, subscribe to our newsletter here.