Abhishek Bachchan aka Junior Bachchan turned 47 on February 5, 2023. The actor is often regarded as one of the most underrated actors in Bollywood. Throughout his little over two-decade-long career, he has delivered some exceptional performances. He marked his acting debut with Refugee opposite Kareena Kapoor, a movie that he signed up for on his 23rd birthday. On his 47th birthday, the actor has more than 70 movies and multiple awards to his name.
While the actor has always been phenomenal and acted in some most successful films, film critics and fans have kept him under the radar and compared his acting skills with that of his father Amitabh Bachchan. But the actor has always handled the responses with dignity, even in the face of trolls and criticisms. Let's look back at a few befitting responses that Abhishek Bachchan gave to shut down his critics.
"Nobody comes close to him in talent", Abhishek to Taslima Nasreen
Last year, the Bangladeshi-Swedish writer and activist, Taslima Nasreen tweeted her opinion on Abhishek Bachchan. She wrote, "Amitabh Bachchan ji loves his son Abhishek Bachchan so much that he thinks his son inherited all his talents and his son is the best. Abhishek is good, but I do not think Abhishek is as talented as Amitji." To this, Abhishek replied, "Absolutely correct, Ma'am. Nobody comes close to him in talent or anything else for that matter. He will always remain 'the best'! I am an extremely proud son." Suniel Shetty supported the actor and reacted with a heart emoji on the tweet.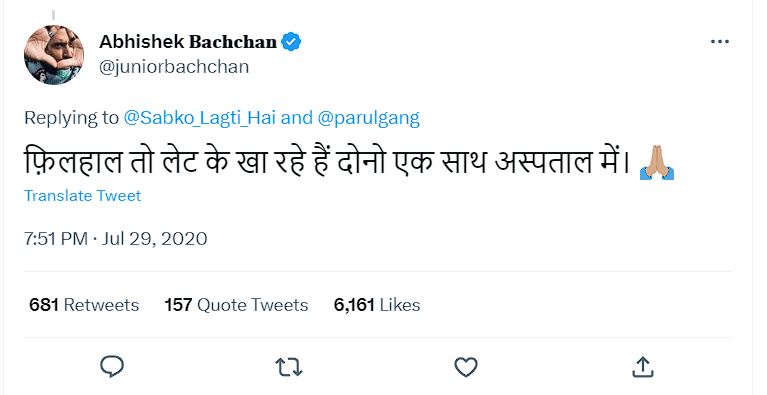 'Philhaal toh let ke kha rahe hai dono ek saath hospital mein', Abhishek to a fan on Twitter
When Amitabh Bachchan was hospitalized with Covid-19, a fan asked him how would he manage to feed himself now that his father is in the hospital. Abhishek came up with a witty reply, ' 'Philhaal toh let ke kha rahe hai dono ek saath hospital mein.'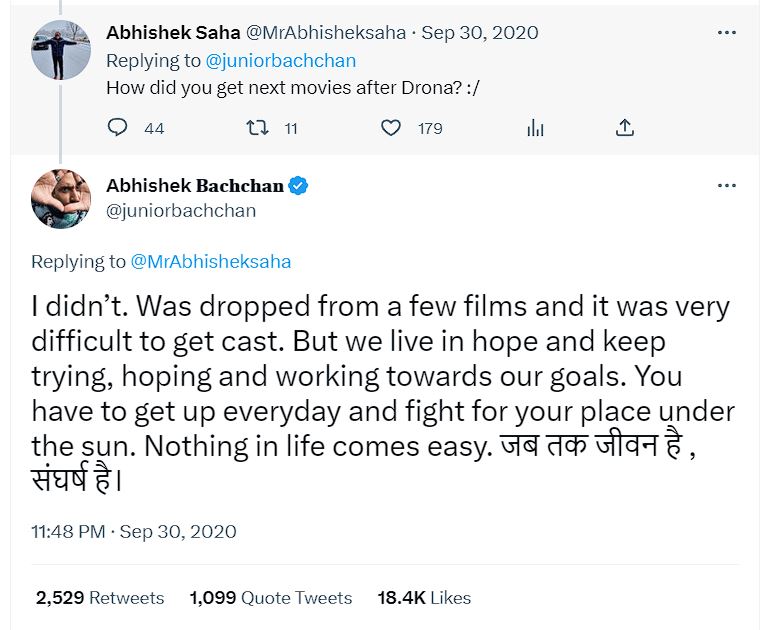 'Nothing in life comes easy', Abhishek's reply to a fan on Drona
Abhishek Bachchan's Drona didn't do well at the box office. A fan tweeted how did he get any films after Drona. Abhishek had the most humble reply. He wrote, "I didn't. Was dropped from a few films and it was very difficult to get cast. But we live in hope and keep trying, hoping and working towards our goals. You have to get up everyday and fight for your place under the sun. Nothing in life comes easy. जब तक जीवन है , संघर्ष है।"
READ ALSO Pathaan 2nd Sunday Box Office: Shah Rukh Khan's spy drama becomes first Bollywood film to enter Rs 400 cr club