Nicolas Cage and Riko Shibata, his wife of nine months, have hit the red carpet hand-in-hand at GQ's Men of the Year Party.
The pair posed for the cameras at today's West Hollywood event, with Cage, 57, wearing a black suit and a grey fedora while Shibata, 26, was dressed in a traditional Japanese Kimono.
They were joined by a number of celebrities, including Lil Nas X, Kumail Nanjiani, Henry Golding, Andrew Garfield, Debby Ryan and Troye Sivan.
READ MORE: Meghan on Ellen – everything said about Prince Harry, Archie and Lilibet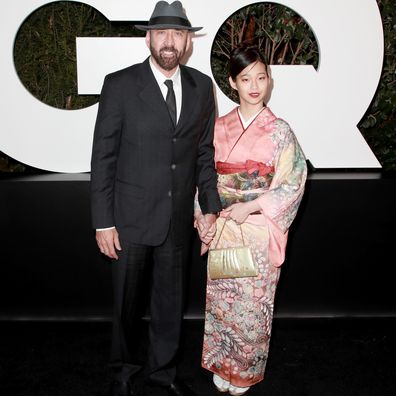 Cage and Shibata met in Japan. They got engaged over FaceTime in August last year, before tying the knot on February 16 in an intimate ceremony in Las Vegas.
Shibata is Cage's fifth wife, though Cage, who is 31 years her senior, is her first husband.
Cage was married to Patricia Arquette from 1995 to 2001, Lisa Marie Presley from 2002 to 2004, Alice Kim from 2004 to 2016, and to Erika Koike for less than four days in 2019.
The actor reportedly decided to pull the plug on their union because he was reportedly too drunk to comprehend his actions.
READ MORE: The three words most people say on their death bed
In court documents obtained by Us Weekly, the outlet reported that, "[Cage] lacked understanding of his actions in marrying [Koike] to the extent that he was incapable of agreeing to the marriage. Prior to obtaining a marriage license and participating in a marriage ceremony, [they] were both drinking to the point of intoxication."
Thankfully, love was right around the corner with Cage and Shibita meeting the following year.
Cage shares a 16-year-old son, Kal-El, with Kim, and a 30-year-old son, Weston, with actress Christina Fulton.
Through Weston, Cage has four grandchildren: Lucian Augustus, seven, Sorin Reid, five, and twins Venice Zohar and Cyress Zara, one.