Elton John's farewell tour Down Under is sure shaping up to be an exciting set of shows, and that's especially thanks to Ian "Molly" Meldrum.
Audience members at John's Farewell Yellow Brick Road concert at Melbourne's AAMI Park on Friday night got the shock of their lives when the Aussie larrikin dropped his pants on-stage.
Meldrum, 79, was in the audience at the show, when John, 75, paid tribute to the music critic.
Watch the video above.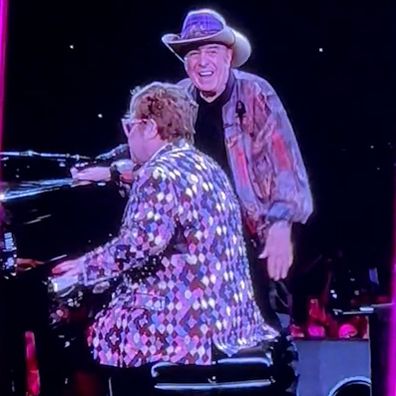 READ MORE: Lisa Marie Presley to be buried at Graceland next to son
"He's quite honestly a national treasure," John told the crowd from the stage. "I want to thank him for all the love and loyalty he's shown me over the years. I love you."
When John started singing The B–ch Is Back, Meldrum then came onto the stage. John and Meldrum hugged and kissed, before Meldrum pulled down his pants and mooned the crowd.
Social media users quickly went into meltdown when footage of the seconds-long cheeky moment was shared.
READ MORE: 'In a week of noise, Kate has proven the power in staying silent'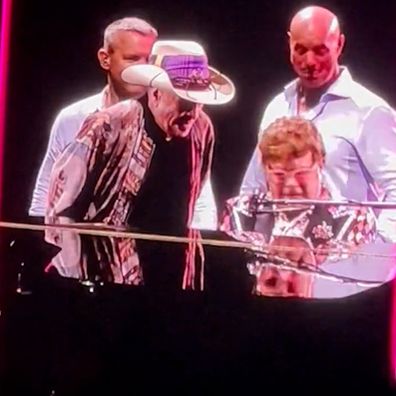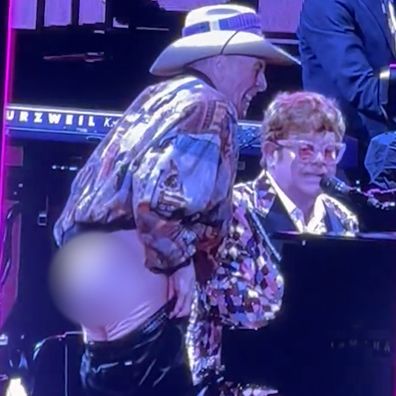 "Expect the unexpected (molly meldrum) at the elton john show tonight lmfao," one Twitter user wrote.
"If seeing Molly Meldrum's bare bum was on your 2023 bingo card, here you go," user @oztish wrote alongside footage.
"Not entirely sure why. Not sure Elton was thrilled. I know I wouldn't. But Molly will always be Molly!" journalist Peter Ford said.
Meldrum and John have been longtime friends, though they were notably on the outs for seven years after a controversial interview about Madonna.
READ MORE: 'Having an open relationship helped prepare me for having a baby'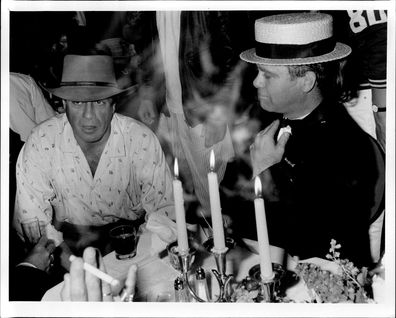 The former Countdown host wrote in his 2016 book Ah Well, Nobody's Perfect that footage from the interview, in which John lashed Madonna, did air – despite John and Meldrum believing the discussion to be "off the record" at the time – after a producer allegedly went behind Meldrum's back.
He said he was "not at the top of [his] game" following a serious brain injury sustained from a fall in 2011, noting the remarks were not meant to be broadcast.
"I guess I should have been more in control of the final edit and approved the story before it went to air," Meldrum wrote.
"Elton still thinks it was all my fault, and refused to talk to me when he toured Australia in 2015," he continued.
"I'm tempted to quote a line from one of my favourite movies: 'Frankly, my dear, I don't give a damn'. But the truth is, I do give a damn. I love Elton."
In 2019, the pair worked out their differences during a private meeting John organised when he was back in Melbourne for his first Farewell Yellow Brick Road tour.
John's Farewell Yellow Brick Road tour continues in Sydney next week, with his final Melbourne show taking place tonight.
For a daily dose of 9Honey, subscribe to our newsletter here.