New Zealand singer Lorde has addressed a viral video of her telling an audience to be quiet during a concert performance of one of her songs.
The footage is from one of her shows during the 2017 Melodrama tour. In the clip, Lorde sings her emotional track 'Writer in the Dark' and shushes her fans in the crowd, who are enthusiastically singing along. See the moment in the video above.
The clip recently resurfaced on TikTok and Lorde has now spoken out about the moment in a video provided to the Instagram fan account @lordecontent.
READ MORE: Little Britain star Matt Lucas says he was 'thin-shamed' by a stranger at soccer game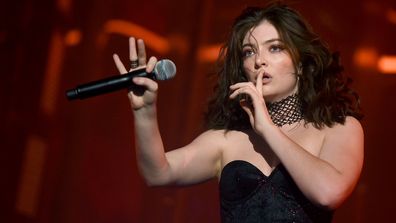 "I just woke up. I just wanted to talk about this thing of me shushing people at my shows," the 25-year-old said. "That was something that I did on that one song a couple times when I wanted to sing it a cappella or off the microphone so people could hear me and because I wanted to try something different.
"If you come to my shows, you know it's an hour-and-a-half of all of us singing and screaming together. Also that dramatic-ass move was literally for an album called Melodrama, so don't stress too hard."
READ MORE: The mother and daughter fighting for change
Lorde is currently on tour for her 2021 album Solar Power. She also addressed the shushing video on Saturday night, before performing 'Writer in the Dark' for the first time since 2018.
She told fans "sing it as loudly as you like so we can show the f–king trolls what it sounds like". Watch below.
For a daily dose of 9Honey, subscribe to our newsletter here