North West, the daughter of Kim Kardashian and rapper Kanye West, had a stern message for paparazzi at the Paris Haute Couture Fashion Week.
While watching the Paul Gaultier show, North slowly raised a sign at photographers that read: "STOP". She appeared to have written the word on the back of an invitation to the show. 
Kardashian, 21, found it hilarious and shared the video on her Twitter with a series of laughing emojis. 
READ MORE: Natalie Portman comes under fire for exaggerating the LGBTQ elements of Thor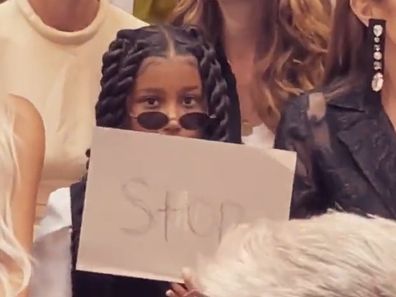 READ MORE: Friends and Star Trek star Gregory Itzin dies age 74
"North, I guess, had it with the people taking pictures of her so she wrote on her invite 'STOP; and held it up and wanted them to just focus on the show," she wrote. 
Most people also found the video hilarious and a still from the clip has already been turned into a minor meme.
However, others noted that North's cry for help is quite sad. 
"Don't you guys find it a little weird how this child is constantly, openly expressing her discomfort with paparazzi and people filming/taking pictures of her but no one actually thinks of listening and respect[ing] a child's boundaries," said one Twitter user.
Earlier in the week, North West complained to a group of paparazzi while leaving a restaurant with her mother. "Why do you have to wait for us all the time?" she asked.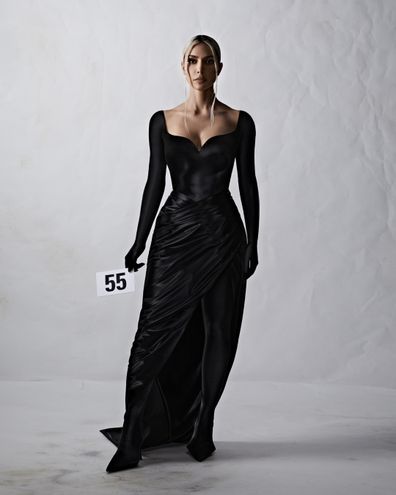 READ MORE: The fascinating history of the iconic Hollywood sign
Kardashian was invited to walk the Paris Haute Couture runway at the Balenciaga show earlier this week.
She donned a full-length dress with a sweetheart neckline, and built-in gloves and boots. Kris Jenner watched the show with North.
The Balenciaga show hosted a slew of A-list celebrities on the runway including Nicole Kidman, Dua Lipa, Naomi Campbell and Bella Hadid.
For a daily dose of 9Honey, subscribe to our newsletter here.