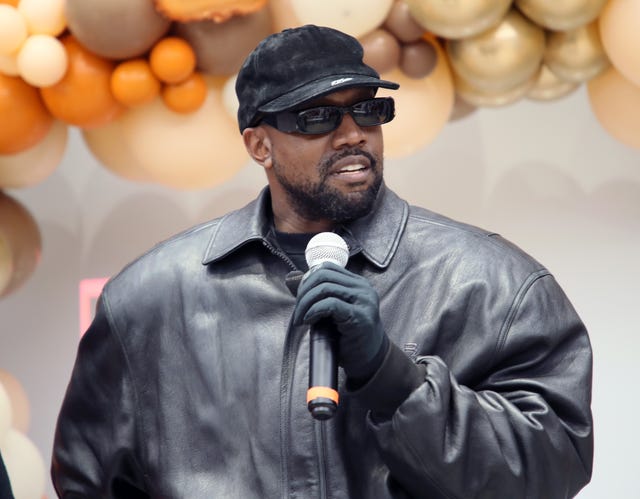 David LivingstonGetty Images
Kanye West just dropped an Instagram video titled "Thanksgiving Prayer," owning up to embarrassing Kim Kardashian with his presidential bid and support of former president Donald Trump.
"All I think about every day is how I get my family back together and how I heal the pain that I've caused," Kanye said. "I take accountability for my actions. New word alert: Misactions. The one thing that all my successes and failures have in common is me."
Kanye spoke on several subjects, including "alcohol," "episodes," "ego," "temper," "religion," "finances," and "politics." During his reflections on his political ambitions, he said "Good Lord my wife did not like me wearing the red hat. Being a good wife she just wanted to protect me and our family. I made me and our family at target by not aligning with Hollywood's political stance and that was hard for our marriage. Then I ran for president without proper preparation and no allies on either side. I embarrassed my wife in the way that I presented information about our family during the one, and thank God, only press conference. All my dad had to say afterwards was 'write your speech next time son.'"
Watch his full Thanksgiving Prayer below:
This content is imported from Instagram. You may be able to find the same content in another format, or you may be able to find more information, at their web site.
FYI, Kanye also opened up about wanting to get back together with Kim Kardashian while at the Los Angeles Mission's Annual Thanksgiving event on Wednesday. "If the enemy can separate Kimye, there's going to be millions of families that feel like that separation is okay," he said in part. "But when God brings Kimye together, there's going to be millions of families that are going to be influenced to see that they can overcome the work of the separation, of trauma the devil has used to capitalize to keep people in misery while people step over homeless people to go to the Gucci store."
He also noted that he wasn't going to let E! and Hulu "write the narrative of his family," explaining, "I am the priest of my own home."
This content is created and maintained by a third party, and imported onto this page to help users provide their email addresses. You may be able to find more information about this and similar content at piano.io