British actress Josephine Tewson has died aged 91.
The star was best known for her role on beloved comedy show Keeping Up Appearances. A statement from her agent revealed that she died peacefully overnight, at a care home in London for people in the entertainment industry.
Though she had a handful of acting roles through the 1980s, her stint as Elizabeth Warden, the neighbour of Hyacinth, on Keeping Up Appearances is what cemented Tewson as a legitimate star.
READ MORE: Actor Gary Busey charged with two counts of criminal sexual contact, police say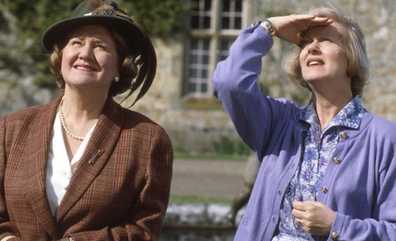 Tewson starred on the iconic British show from from 1990 to 1995. Following on from her success in the role, the show's writer then gave her the role of Miss Davenport in Last of the Summer Wine, which she played from 2003 to 2010.
In a statement, her agent Jean Diamond said: "It is with great sadness that we announce the passing of Josephine Tewson."
READ MORE: How a single photo of Jennifer Lopez in a green dress kickstarted Google Images
Tewson started her acting career in theatre, where she took the stage alongside acting greats like Charlie Drake, Dick Emery, Bob Monkhouse and Kenneth Williams.
She formed a great professional bond with Ronnie Barker, which resulted in frequent appearances on his primetime show with Ronnie Corbett, The Two Ronnies.
For a daily dose of 9Honey, subscribe to our newsletter here.