Jimmy Barnes is on his feet and grinning from ear-to-ear after undergoing a gruelling surgery.
This is the second update fans have been given in the last 24 hours about Barnes' health after the Aussie rocker's daughter Ella-May Barnes informed that her dad was "out of surgery and awake".
Barnes, 66, was due to perform multiple shows nationwide in 2023 but was forced to cancel the gigs to have surgery on his back and hip to relieve chronic pain.
READ MORE: Stars entangled in feud after Kyle Sandilands radio segment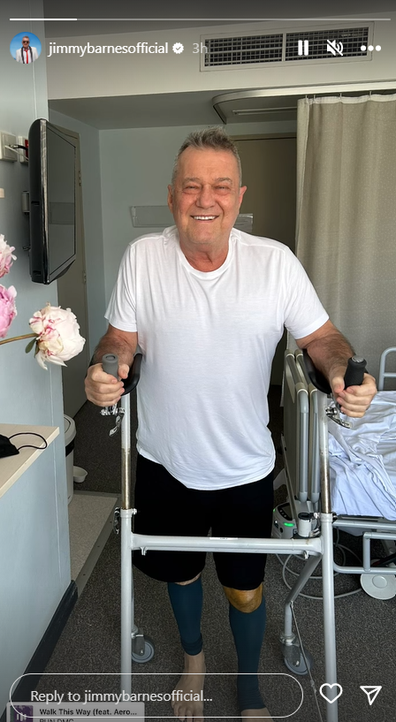 The most recent photo, shared on Barnes' Instagram Stories, shows him smiling while standing in his hospital room, holding onto a walker and wearing compression stockings.
His left leg appears to be covered in Betadine.
Meantime, the first update from Barnes' daughter came overnight
"Hey everyone it's @ellymaybarnes, my dadda is out of surgery and awake," the 33-year-old captioned a photo of her famous father in his hospital bed.
"The doctors are very happy …Thanks for all the well wishes," she added, along with an X-ray of his hip, post-surgery. 
READ MORE: Rebel Wilson reveals how first on-screen kiss with a woman changed her
Hours prior to his surgery, Barnes was in good spirits as he sang a song for his fans on Instagram, while his wife, Jane, played the guitar.
"Here's a beautiful song for you all. 'Have a little faith in Me' by John Hyatt. I'll be on the operating table tomorrow so thanks for all your encouraging wishes," he captioned the clip.
READ MORE: Toni Collette's cryptic message after split
It was last month Barnes revealed his surgery plans while pulling the plug on his upcoming summer tour. In a video announcement shared on Instagram at the time, the Working Class Man singer said he's been experiencing pain in his back and hip for the last eight years, and it was time to finally do something about it.
"I've been jumping off PA's [public address systems] and stomping around stages for nearly 50 years, but it's finally caught up with me", Barnes explained in the November 29 video.
READ MORE: Full list of nominees for the 2023 Golden Globes
"I've had niggling back and hip issues for years, but things suddenly got a lot worse over the last few weeks and things suddenly got really painful and really severe," he continued.
"As everybody knows, it's against my religion to cancel shows, or to put them off, but the doctors told me I need an operation as soon as possible and it's going to really limit my movement for the next few months."
"As much as it kills me, I have to get this fixed so I can jump around onstage for the next 50 years. I'll see you when I come back."
For a daily dose of 9Honey, subscribe to our newsletter here.