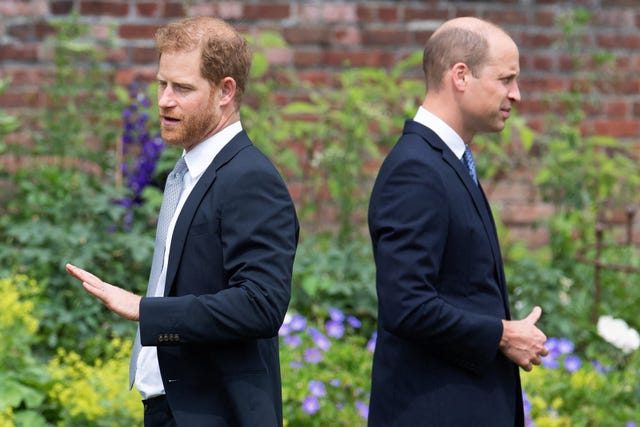 DOMINIC LIPINSKIGetty Images
Welp, there's yet another new book coming out about Prince William and Prince Harry's royal feud. In The Palace Papers: Inside The House Of Windsor—The Truth And The Turmoil, author Tina Brown says (via The Daily Mail) that Prince Harry "vented" about his brother and "poured out resentments" about his father to his ex-girlfriend Cressida Bonas, who recommended that he speak to a therapist.
Note: Prince Harry has been very open about therapy and destigmatizing conversations surrounding mental health, and actually just spoke about "immense cultural differences" in attitudes towards therapy in England and the US, saying on the Masters of Scale podcast, "You talk about it here in California, 'I'll get my therapist to call your therapist.' Whereas in the UK it's like, 'Therapist? What therapist? Whose therapist? I don't have a therapist. No, I definitely don't, I've never spoken to a therapist.'"
Anyway, according to Tina Brown, Harry was "angry" because William was "hogging the best briefs" and "friction between the brothers escalated" after William became patron of the rhino charity in 2015, causing "Olympic rows" between the pair.
Brown also claims that Cressida found Harry's issues with his family "tiresome" and "trying," but also encouraged him to speak to a professional—and after they broke up he wrote her "a sweet letter saying 'I admire you, I wish you well and above all thank you for helping me to address my demons and seek help.'"
Of course, it's no secret that Harry and William have tension (as many siblings do!), and currently don't seem to be on great terms. William was away on a ski trip during Harry's surprise visit to see his family in Windsor, and apparently the royals en masse are slightly stressed about what Harry might write in his upcoming memoir.
This content is created and maintained by a third party, and imported onto this page to help users provide their email addresses. You may be able to find more information about this and similar content at piano.io