Hilaria Baldwin says she isn't ready to share the sex of her baby on the way.
On Tuesday, the 38-year-old — who's expecting her seventh child with husband Alec Baldwin, 63 — shared in a social media post that she already knows the sex of her baby but has decided not to share it publicly yet.
"So many of you are asking what I'm having… I do know and I will tell you but I'm waiting for two things," she began on her Instagram Story.
READ MORE: Bindi Irwin celebrates milestone as daughter Grace takes her first steps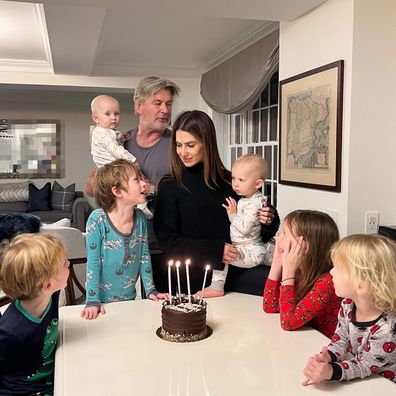 "1. I lost a baby at 4 months in 2019 (maybe some of you remember). I think about her daily and understand that motherhood has its beauty and its darkness. But I will wait until I'm past the point when I lost my daughter."
In April 2019, Hilaria suffered a miscarriage. Months later in November, she revealed she suffered a pregnancy loss at 16 weeks pregnant.
The soon-to-be mother of seven explained that her second reason for holding off sharing the baby's sex is that she wants to be gender-inclusive.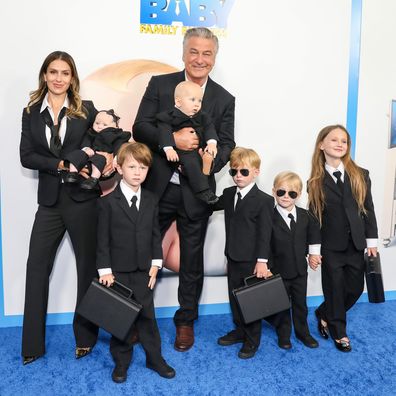 "2. Many of you know how connected I am to the LGBTQIA+ community and I am talking with a few close confidants on how I can be thoughtful and inclusive on helping to curate a more gender inclusive world," Hilaria continued.
READ MORE: Alex Fevola opens up about 'gut-wrenching' confrontation with Lara Worthington
"Quite frankly it may just be continuing on as I have. But given all of the prejudice I'm seeing in this country right now, I need to pause and give it a good think and get some advice. It pains me so much to see that people are vilified and harassed and not included for simply being who they are. Peaceful, loving, beautiful humans."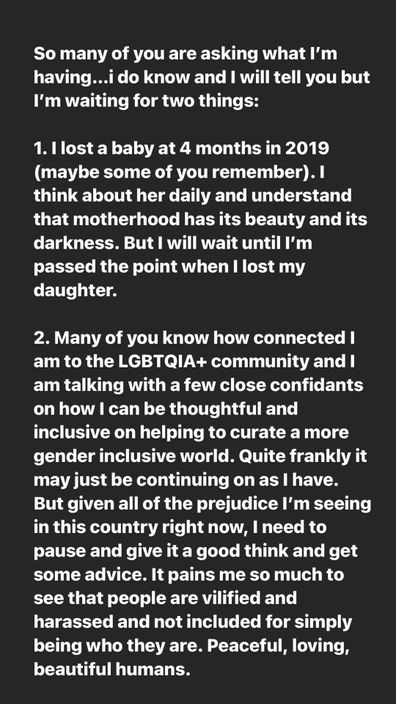 The Baldwins announced last week that they are expecting their second child. The former yoga instructor broke her social media hiatus to share a sweet Instagram video that showed viewers the moment she breaks the news to her existing brood. Watch below.
"After many ups and downs over the past few years, we have an exciting up and a huge surprise: another Baldwinito is coming this fall 💛," Hilaria wrote in the video's caption.
READ MORE: Ex-nanny Lola reveals how the dads treated her on the job
"We were pretty sure our family was complete, and we're beyond happy with this surprise."
READ MORE: Costco vs Aldi: Which is cheaper when it comes to essential items
"I'm sharing with you the moment we told the kids—as you can see, they are super excited! Our new baby is a very bright spot in our lives. A blessing and a gift during such uncertain times," she continued, seemingly including a reference to the fact that Alec is currently embroiled in a wrongful death lawsuit over the fatal Rust set shooting, filed in February by the family of cinematographer Halyna Hutchins, who was shot and killed in the incident last October.
"I've missed you during my break from social media… I'm back and looking forward to continuing with you this wild journey that we call 'life.' Our love to you and your loved ones ❤️"
Hilaria and Alec already share eight-year-old daughter Carmen, six-year-old son Rafael, five-year-old son Leonardo, three-year-old son Romeo, 18-month-old son Eduardo, and 13-month-old daughter María Lucía.
For a daily dose of 9Honey, subscribe to our newsletter here.