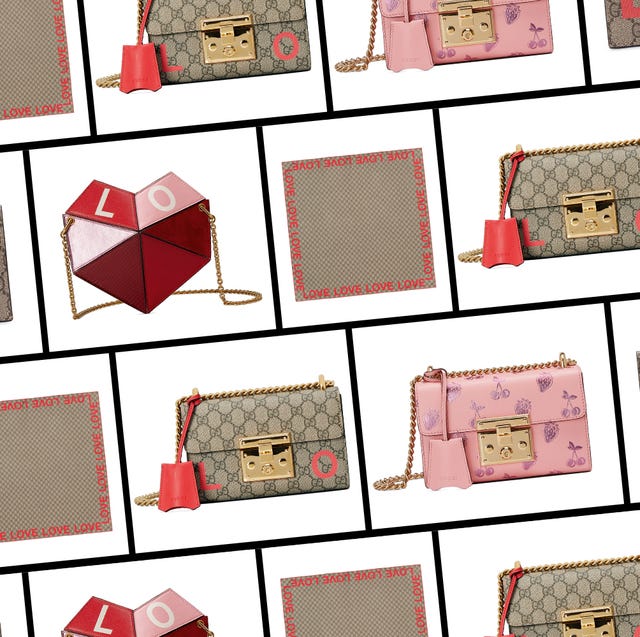 Flowers, wine, plates of something decadent—there are some things we're taught epitomize the perfect Valentine's Day gift. But times have changed. There's nothing wrong with any of those options, per say, but if held up against something from Gucci, well, we know which one we'd gravitate toward.
The House's Valentine's Day capsule is the stuff of heart-eye emojis: graphic messages of love boldly printed on classic accessories; heart-shaped bags that are reminiscent of handcrafted Valentine's Day cards; and bamboo-handled silhouettes emblazoned with metallic pink fruits (the sweetest of the sweet!). Each piece strikes a balance between February 14 and the everyday in a playful yet timeless approach to the capsule collection. Unbox it over candlelight now and wear straight through to summer.
Here, a few of the pieces we'd most like to unwrap.
Advertisement – Continue Reading Below
1
Valentine's Day Small Heart Bag
For the lover who likes to be kept on their toes, Gucci's play at turning a curvaceous heart into a multi-dimensional bag is a delightful surprise. The unexpected shape is playful, and the small size makes it perfect for date night or dressed-down weekends.
2
Women's Valentine's Day Slides
Simple slides go luxe and lovely. The newest version of the brand's coated-canvas sandals pop with red soles—and would look fantastic in a weekend bag headed on an tropical Valentine's Day getaway.
3
Valentine's Day Padlock Small Bamboo Shoulder Bag
Classic details like heavy hardware and a bamboo handle instantly feel flirty with a peppering of metallic strawberries and cherries. The juxtaposition of timeless details and whimsical motifs captures the Gucci essence perfectly (and injects a bit of fun into any fashion moment).
4
Valentine's Day Card Case
For the giftee who always wants something just a little bit different from the rest: A monogrammed card case that becomes even more covetable when a bold message of love marks it as a limited-edition piece.
5
Valentine's Day Small Heart Bag
An origami-like design evokes folded love notes and, consequently, our earliest memories of romance. The everyday chain-strap design is anything but average with the added dimensions and graphic touches.
6
GG 'Love' Print Silk Scarf
A timeless pattern, a shape that can be styled a dozen different ways—there's a reason the chic silk scarf is always a popular gift. A bold border updates this monogrammed style, adding a flash of bright color no matter how it's worn.
7
Valentine's Day Mini Bag
The trunk-like silhouette of this mini style echoes the House's luggage heritage. The iconic monogram, meanwhile, serves as the perfect canvas for block letters and a contrasting cross-body strap.
This content is created and maintained by a third party, and imported onto this page to help users provide their email addresses. You may be able to find more information about this and similar content at piano.io
Advertisement – Continue Reading Below