Situated in the culinary playground known as Tiffin at the Yard, right next to sister brand NoLabel Cuisine, is the newly launched pizzeria, Fire & Slice.
Serving wood-fired pizza made with farm-to-table, pesticide-free ingredients, the team comprises of four founders with a combined 60 years of culinary experience—Shawn Koh, Shane Loh, Chiew Yow Sin, and Goh Ki Hong.
At the helm of it is Chef Shawn.
He's previously worked in the kitchens of Marina Bay Sands, W Hotel, and various restaurants in the famed Unlisted Collection Group, which is home to a number of Michelin-starred establishments.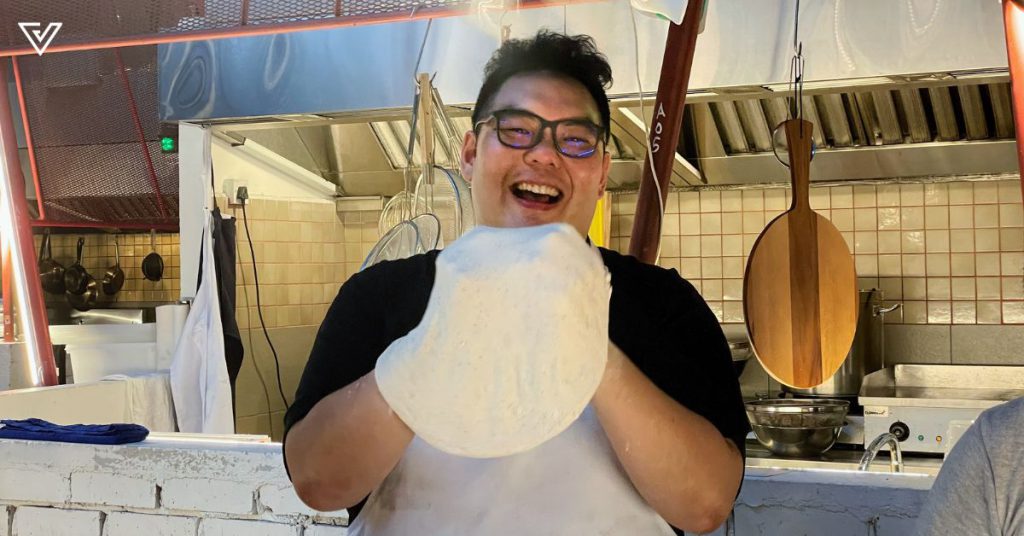 The chefs also have experience at a well-known restaurant in Singapore called Pizzeria Mozza, which has since reopened as Osteria Mozza.
"We used to work in Singapore for ten years, and we saw the standards are too far apart," Shawn said. "With that being said, we had the same idea of trying to raise up the F&B industry in Malaysia, starting from very small."
The team at Vulcan Post had an opportunity to pop by for its grand opening. So on a rainy Thursday evening, we headed to the yard to learn more about Fire & Slice from the chef patron himself.
From farm to pizzeria
Touting itself as the first farm-to-table pizzeria in Kuala Lumpur, Fire & Slice's speciality is its fresh and local ingredients.
"Our whole concept revolving around all that we do is always trying to be as local as possible and as sustainable as possible," Shawn explained. "We want to try to bring back that flair of what we can do with our local Malaysian produce."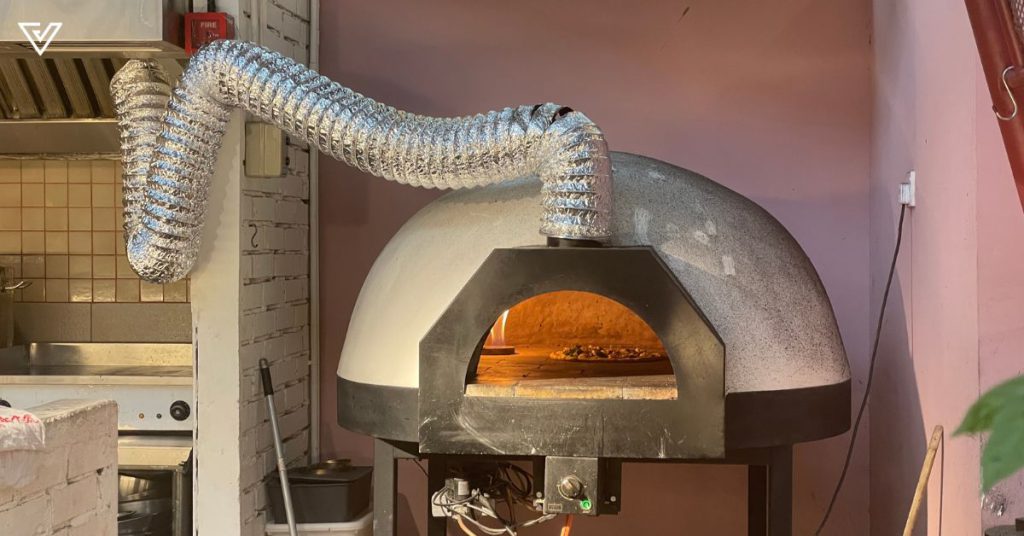 Even the wood-fired oven at the pizzeria is made in Malaysia. In fact, the wood they use is local too, purchased from Taiping-based Pine Wood Enterprise.
Around 80% to 85% of the ingredients used at Fire & Slice are local, Shawn said. Exceptions are made for ingredients such as beef and cheese.
"I'm also a businessman," he reasoned. "I can't be asking my partners, 'I need garlic, so plant garlic', 'I need onions, plant onion'. The cost will not make sense. By the time they actually plant it in a niche way and send it to me, the garlic will be worth RM30 to RM40 per kilo."
Fire & Slice works with two partner farms, one in Cameron Highlands and one in Shah Alam. These partners are also invested in his pizzeria, as the setup is a win-win situation for both parties.
"In the farming world, there is a certain percentage of wastage when they do their harvest," Shawn explained.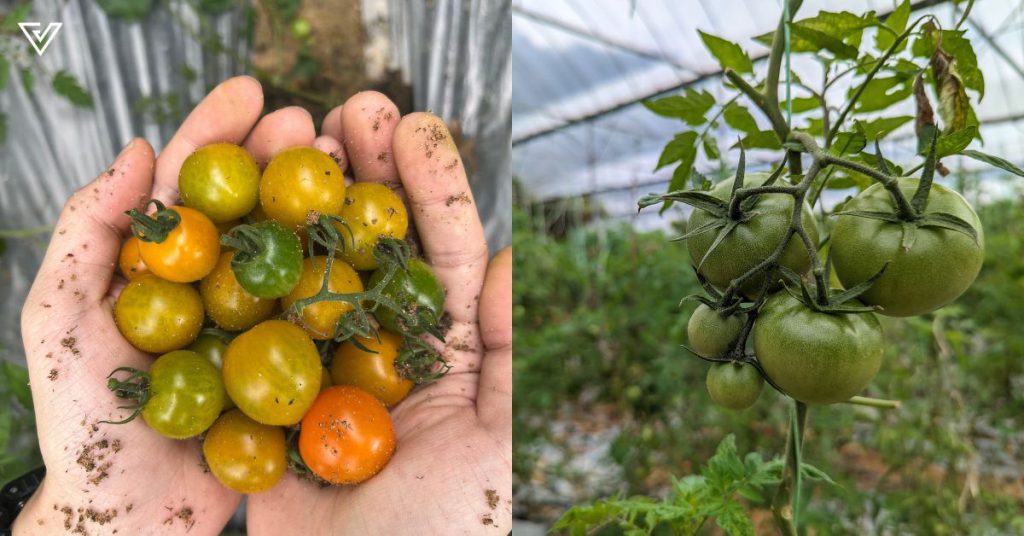 "What you see in Jaya Grocer, what you see in AEON, and all that are the A-Grade vegetables. That means every tomato will look exactly the same, every tomato will have the same radius, plus-minus. But we are using the B-Grade or C-Grade ones."
Bringing over a basket of greenish (and "ugly") Momotaro tomatoes from Cameron Highlands for us to inspect, Shawn explained that these tomatoes are early-harvest ones, as they actually ripen faster in the lower altitude and warmer climate.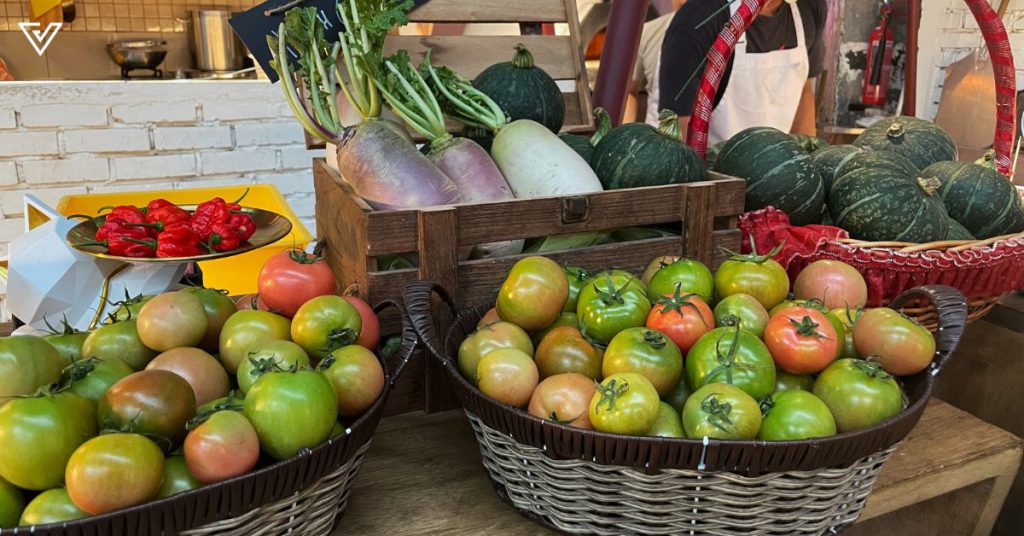 "Not to say that the visual is not important, but it's not as important as when selling it in the supermarket," Shawn said.
Rest assured though, the grade of the tomato doesn't affect the flavour of the final product, Shawn said.
An intensive R&D experience
Taking their recipes seriously, the team spent three months just to create the perfect dough. They tried 15 different flours, and experimented by mixing and matching.
This was particularly puzzling as the team challenged themselves not to use imported flour, such as King Arthur flour—the kind they used during their time in Mozza.
"I really wanted to give up," Shawn admitted with a laugh. "It's difficult. It's time-consuming."
But they managed to pull through and found a winning combination.
Once the dough was perfected, the team started things off with a more "boring" menu, as Shawn himself described it.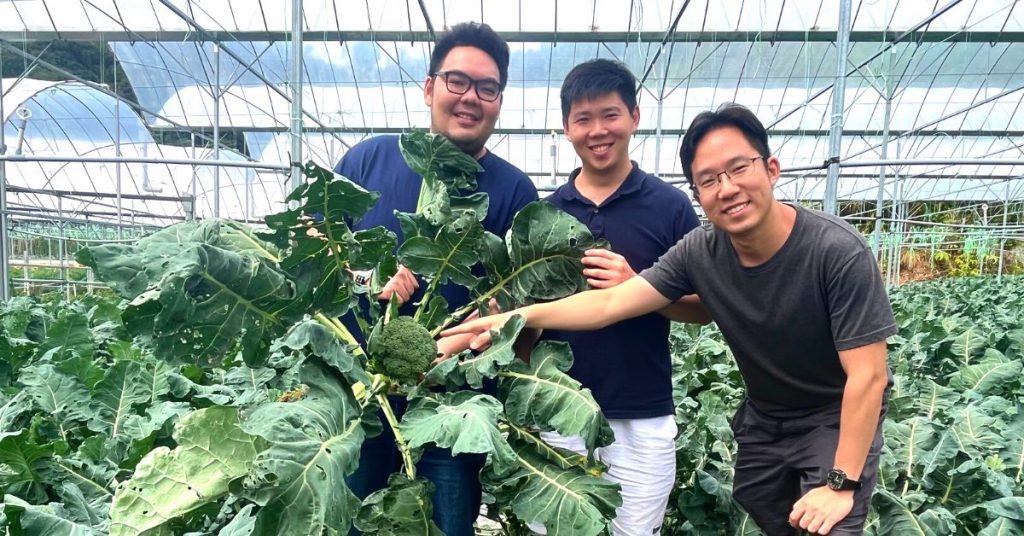 But then, a friend and mentor of his who has experience running a pizzeria told him something that would change his mindset.
"You notice how when I always come I never order any of your pizzas?" Shawn recalled him saying. Upon asking why, his friend said, "You gotta do something special about your pizza."
And that he did.
Cooking up local flavours with local ingredients
The pizzeria currently features four signature pizzas—Margherita v2.023, Laksa Pesto Chicken, Langkawi, and Baby Kai Lan.
The Margherita v2.023 (RM32) features Thai basil pesto, mozzarella, Momo-Doro sauce, heirloom tomatoes, lemon basil, and extra virgin olive oil.
Meanwhile, the Laksa Pesto Chicken (RM38) features fennel-marinated chicken, jalapeno, mozzarella panna, Fire & Slice's signature laksa pesto, and a hint of fish sauce.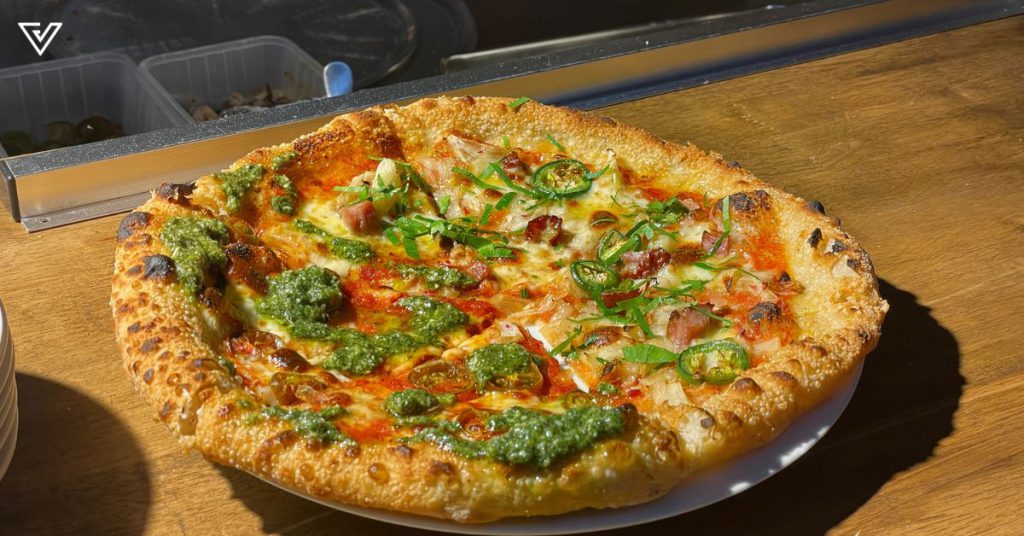 The Langkawi Pizza (RM45) is a cheeky version of Hawaiian pizza made with seasonal local pineapples. It also features smoked duck from Ipoh.
Lastly, the Baby Kai Lan Pizza (RM38) features baby kai lan from the pizzeria's own farms, angel hair chilli, and fennel marinated chicken.
The pizza is topped with "mui heong" bagna cauda sauce. Typically, bagna cauda is made with anchovies, but the pizzeria uses "mui heong", which is considered to be the highest grade of salted fish one can find in Malaysia.
"We're not trying to make classic pizzas, we're trying to make something that is dear to us, something of our origins," the chef said.
With that said, Fire & Slice also serves those so-called classic pizzas, including Meat Lovers Pizza, Only Pepperony Pizza, Spicy Steak Pizza, and Thicc Shrooms Pizza.
"I can't just open and serve this," he said, referring to the unique signatures at Fire & Slice. "I don't think most people would be comfortable at first, it takes a lot of convincing to order our signatures."
Fire & Slice's pizzas are on the greasier side, but Shawn said that it's intentional. The reason is so that guests can dip their crust back in the leftover oil on the plate to soak up the flavour.
A fiery entrepreneurial spirit                                                          
Currently, Shawn and his co-founders are focused on their restaurants in Tiffin—NoLabel Cuisines, and now, Fire & Slice.
However, Shawn is keeping his eyes peeled for any opportunities, and has lots of aspirations for his brands. The end goal, he shared, is to build an F&B group that consists of different restaurants that have their own speciality.
This inspiration partially comes from his experience working with Unlisted Collection in Singapore, created by Loh Lik Peng.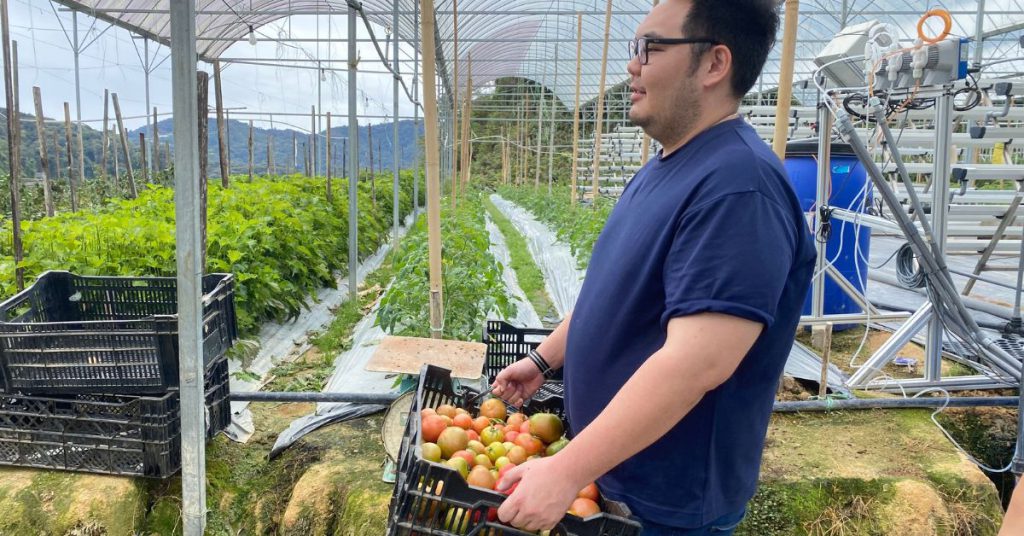 "He really inspires me," Shawn shared about the CEO. "Before [working with Unlisted Collection], I was working in hotels. So, there was always some imaginary white guy over me. [Loh Lik Peng] is the only Chinese dude I saw that looked a white guy eye-to-eye and say, 'Hey, I'm going to fund your restaurant'."
In accordance with his dreams, Shawn already has NoLabel, which focuses on "grub food". Fire & Slice is the pizza brand.
In the future, the chef hopes to create a pasta place, a French casual dining place, and many more.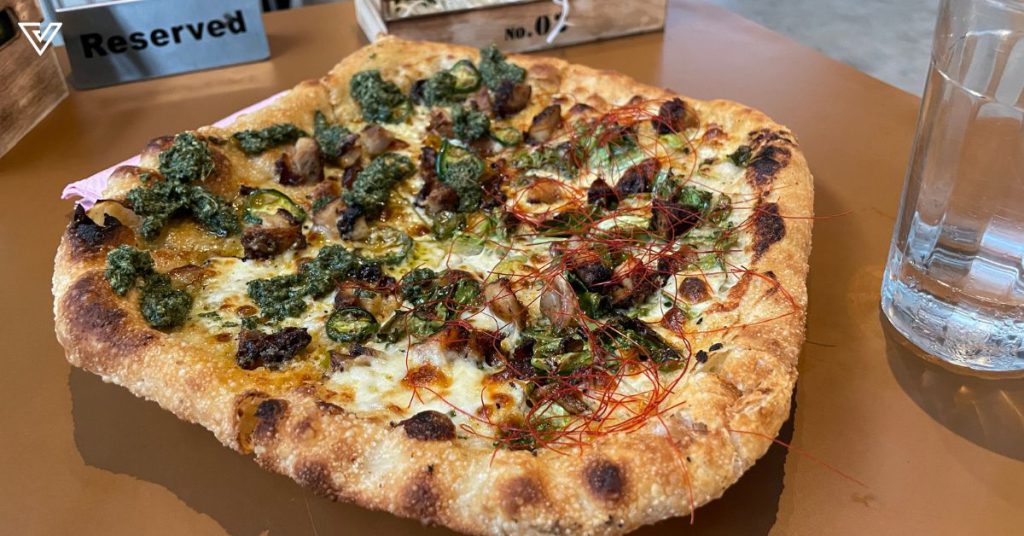 "I'm a little bit different from other chefs," Shawn mused. "Other chefs are very passionate about their food. But I was taught to step out of the kitchen a little bit more, to look as a whole, to be good with your numbers, and build things from there."
That's not to say that Shawn isn't passionate about his food. In fact, he hopes to be able to earn a Michelin star one day, but to do so would require a lot of funding.
"I'm building a few cash cows to fund a hobby," he said candidly. "That's how I paint the picture in my head."
As for bringing in partners, Shawn shared that the team isn't actively looking for any. And if they do, they would be very selective about who they onboard.
"We try to stay between a very fine line," the chef patron explained. "Of course, we want to make a profit, but we want to make the profit the right way."
"The whole idea is to make it accessible. The whole idea is to present what our local produce can showcase, and of course, achieve the best flavour we can."