Darren Hayes isn't happy with Instagram, labelling the platform as "homophobic" after one of his photos was deleted.
The Savage Garden singer, 50, shared a photo of him sitting on a bed, fully clothed, with a naked man laying face down across him, to celebrate Pride Month. He captioned the image with three hashtags: #HappyPrideMonth, #Homo and #Queer.
READ MORE: Single message from friend's ex sparks eight-month nightmare
The photo was almost immediately removed from the platform by Instagram.
Hayes then uploaded a censored version of the image with the caption: "The full picture of this was just pulled for 'soliciting sex' lol. It is me, fully clothed, with a nude male model lying across me with his butt censored."
"Homophobia much?" he added. He then directed his fans to a link in his profile where they can see the full, uncensored image.
Fans were supportive of the photo he shared. One comment read: "Well, I saw the full one before it got deleted and it's amazing."
READ MORE: Woman rescued from hostage situation after sending note through food delivery service
"If it were a nude female laying over a male, it wouldn't have been an issue right I bet! It's 2022 for Gods sake, bloody ridiculous," said another.
"From my point of view… this is art!," wrote a third commenter.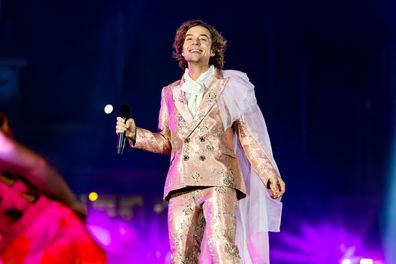 Hayes is set to tour Australia next year, his first concerts on home soil in more than a decade. The Do You Remember? Tour will see Hayes perform music from his solo career and songs from Savage Garden.
READ MORE: Rupert Murdoch and Jerry Hall to divorce
"After almost a decade out of the spotlight and all this time in lockdown I found myself really missing the electric feeling that only a live audience can bring," he said when announcing the tour.
9Honey has reached out to Instagram for comment regarding the deleted photo.