After Britney Spears said today she was expecting her first baby with fiancé Sam Asghari, there had been renewed interest in her eldest children: Sean Preston and Jayden James.
The pop star shares her sons with her ex-husband, Kevin Federline, who like Asghari, was a backup dancer. The former couple embarked on a whirlwind romance back in 2004 — within two years they married, had two children and were divorced. 
As the singer prepares for baby number three, let's take a look at her sons who are practically all grown up.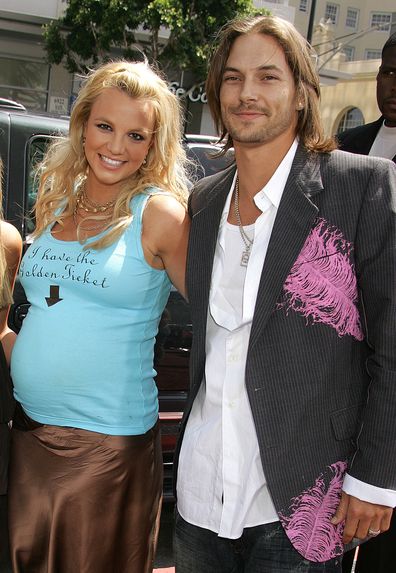 Sean Preston Federline
Sean Preston is Spears' first-born child. She shares him with Kevin Federline, a backup dancer she met in a nightclub in LA back in July 2004. 
Spears and Federline got engaged after two months of dating and then surprised family, friends and fans when they married weeks later. She was just 22 and he was 26.
READ MORE: Britney Spears' dating history: Everything we know about her past and present relationships
Their whirlwind romance continued and on September 14, 2005 — just four days before their first wedding anniversary — they welcomed Sean Preston, now 16. They would later welcome another son, Jayden James in 2006.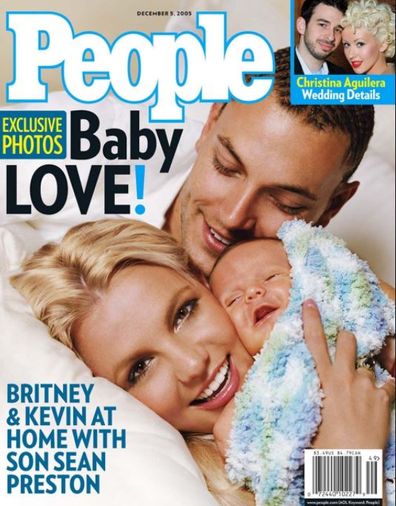 In May 2021, Spears reflected on being a young mum at 24 as she shared a throwback snap of her with her sons. 
"I had my babies very young … at all the pools we went to on tours, all the babies flocked to me because I always brought the most toys 🧸🪁🪀," she shared on Instagram at the time. "I really am a baby mamma 😜😜😜 !!!!"
Spears has shared photos of her sons every now and again on Instagram. The trio are reportedly close, despite the singer not seeing them as often as she likes. 
"It's so crazy how time flies …. My boys are so big now 👩‍👦‍👦 !!!! I know … I know … it's very hard for any mama especially a mama with boys seeing them grow up so fast !!!! Talk about enough to make you go to your knees," she gushed about her sons last year. "I'm extremely lucky because my two babies are such gentleman and so kind that I must have done something right 🙊 !!!!"
"I haven't posted pictures of them for some time cause they're at the age where they want to express their own identities and I totally get it," she added. " But I went out of my way to make this cool edit 🌅 and guess what …. They're finally letting me post it !!!"
It appears Sean is shaping up to be an artistic "genius", according to Spears.
"My son is a little genius!" she captioned a photo of one of his drawings recently on Instagram. 
GALLERY: Britney Spears through the years: 1993 to 2021
Jayden James Federline
One year after Spears and Federline welcomed their first son, they became parents to another healthy baby boy on September 12, 2006: Jayden James. 
By this time, the couple's marriage was on rocky ground and two months after Spears gave birth to Jayden, she filed for divorce from his father, citing irreconcilable differences. 
Now 15, Jayden is slowly discovering social media. In 2020, he willingly shared private details about his famous family on Instagram Live Q&A with fans, spilling his thoughts on his mum's boyfriend Sam Asghari, to his relationship with his grandfather, Jamie.
Of Asghari, Jayden told his followers he approved.
"I like Sam. He's good, he's nice," Jayden said. "He's a really good dude."
But he didn't have as much praise for his grandfather, who at the time was also his mother's conservator.
"Kill my grandfather? Bro, I was thinking the same thing," he said in response to a fan's question. He also called Jamie a "jerk," saying, "Yeah, he's a pretty big d–k." 
Drama aside, Spears is proud of the young man Jayden is becoming. In March this year, she gushed about his ability to "play jazz and literally anything on the piano".
"His gift scares me. We watched Green Book and he sat down and immediately started playing the blues," she shared on Instagram. 
Who has custody of Britney Spears' sons? 
Britney Spears and Kevin Federline's divorce was finalised in 2007 and they agreed to joint custody of their sons, Sean and Jayden.
However, in 2008 after a scheduled visit, Spears reportedly refused to return her sons during a handover with Federline's reps.
This reportedly led to her being hospitalised and in the months that followed Spears was placed under the conservatorship of her father, Jamie.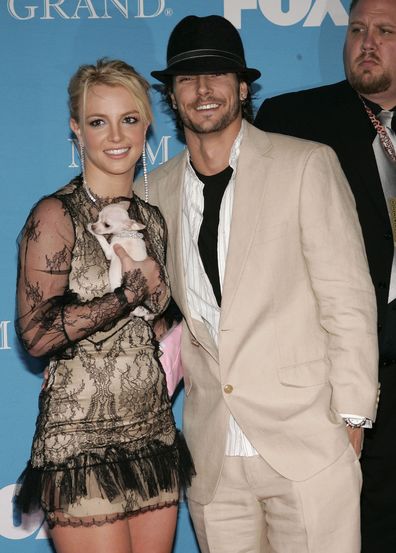 While Spears was eventually granted joint custody of her sons again in subsequent years, in 2019 — after she reportedly checked into a psychiatric facility after suffering from emotional distress — Federline was given 70 per cent custody of the boys with Spears getting the remaining 30 per cent unsupervised custodial rights.
The change to the custody agreement was apparently brought on by an alleged physical altercation between Jamie and Sean in August 2019, and Federline was granted a restraining order against Jamie at the time.
How much child support does Britney Spears pay Kevin Federline?
Britney Spears and Kevin Federline were back in court in 2018 to come to a new child support agreement. 
At the time, the singer was paying her ex US$20,000 (approx. $27,000) for their sons, but Federline argued he was only earning US$3000 (approx. $4000) a month while claiming Spears "earns in excess of US$34,000,000 per year" (approx. $46 million). As a result, he requested a judge to double his child support payments.
His request was granted and according to The Blast, Spears was ordered to pay "thousands more a month in child support", though the new figure remains confidential.
For a daily dose of 9Honey, subscribe to our newsletter here.