You've probably never heard of it, but halal snack packs (HSP) are a regular fast food staple for most Australians. Typically packaged in styrofoam boxes, HSP is basically fries topped with doner kebab and a variety of sauces.
It's meaty, carby, and saucy, and typically has a single portion that's filling enough for two bellies. It's no wonder that it's become such a popular takeout item overseas.
Inspired by this Australian favourite, these three Malaysians banded together to start Big Boss HSP, a store selling the snack near Masjid Jamek, KL.
Frying up a new future
"To me, it almost felt like it was fated," Desmond, the co-founder of Big Boss HSP said. 
He was studying and working at Melbourne for almost three years before deciding to quit a highly coveted KPMG graduate role. He felt an entrepreneurial calling and chose to answer it.
So he flew back to Malaysia in search of business opportunities with his friend hailing from China. It was months into their research of opening a mala hotpot concept in Malaysia when the COVID-19 pandemic happened. 
This halted all of their progress and the travel restrictions meant that Desmond was stuck in Malaysia. So he bucked up and worked as a call centre night-shift staff at AMEX. 
"My plan was to accumulate as much money as fast as possible so when the opportunity arises again, I could seize it." And seize it he did.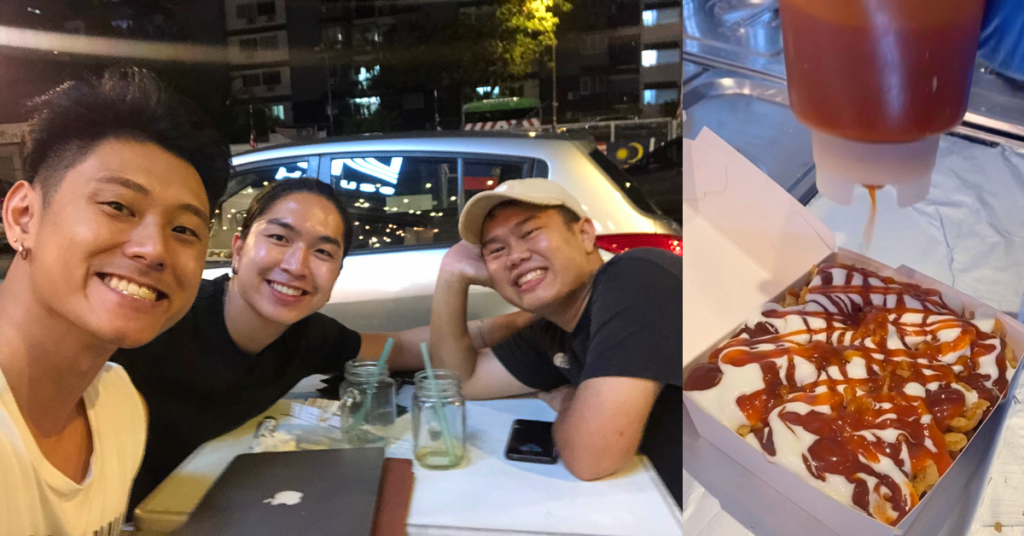 At the same time, Desmond's childhood friend, Roger, had also come back from Melbourne and tried selling HSP at home. He had an Instagram page set up and was listed on GrabFood. 
It was a year and a half later when he reached out to Desmond with the idea to open up a physical store. Desmond enthusiastically agreed. 
Despite coming from an engineering background, Roger had a passion for cooking and had previously dabbled in other fields before. This included being a food truck franchisee for a popular Taiwanese sweet potato balls brand. 
But then they realised a flaw in their plans—they needed someone with more experience in marketing and social media. And that's when Ivan came in. 
Similar to Roger, Ivan also had prior entrepreneurial experience. He's the owner of a kombucha brand called Four.Five and is the lead producer for a macro influencer, Lizz Chloe. 
Together, the three men forked out their own savings to kickstart the F&B business.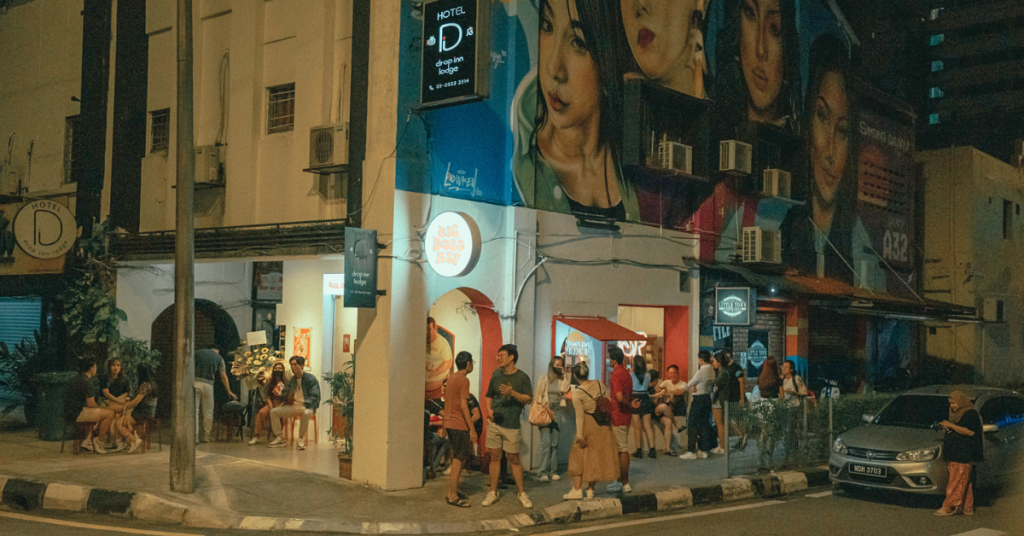 A new F&B store in KL
Located in KL, Big Boss HSP sports the look of a retro-themed diner. With its bright red bar stools and white-tiled walls, it feels like you're transported to another, less hectic time. 
It might seem odd to only have two menu items, but the brand is proud of its snack packs and shawarma. 
For the HSP, customers get a choice of meat (chicken, beef, or mixed) along with a combination of three different sauces. The starting price is RM14.90. The shawarmas have the same meat choices and start at RM13.90.
There's also the option of combo meals, where customers can get fries and a drink of choice.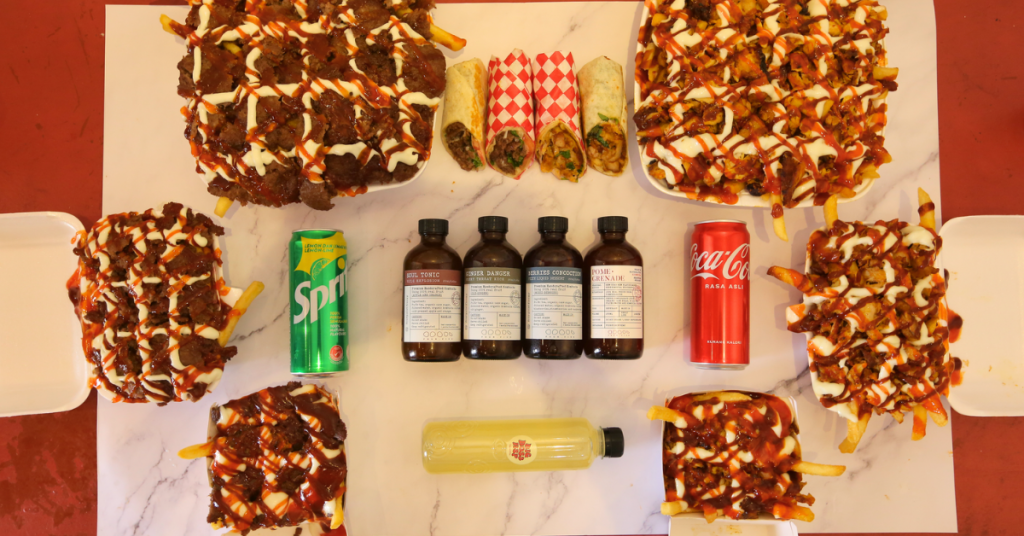 Most of the brand's ingredients are made in their central kitchen, but they do source other components from halal-certified suppliers. In the long run, though, they hope to someday make most of the ingredients within their own central kitchen.
The brand's R&D process for new products is typically a few months. 
Speaking to Vulcan Post, Desmond explained that they first learn the traditional cooking techniques before refining the recipe to make it cost-friendly. 
In the beginning, the founders were a little worried that the brand wouldn't take off. HSPs are not common in Malaysia, so education for market penetration is still required. 
But if there's anything Malaysians love, it's greasy yet comforting food.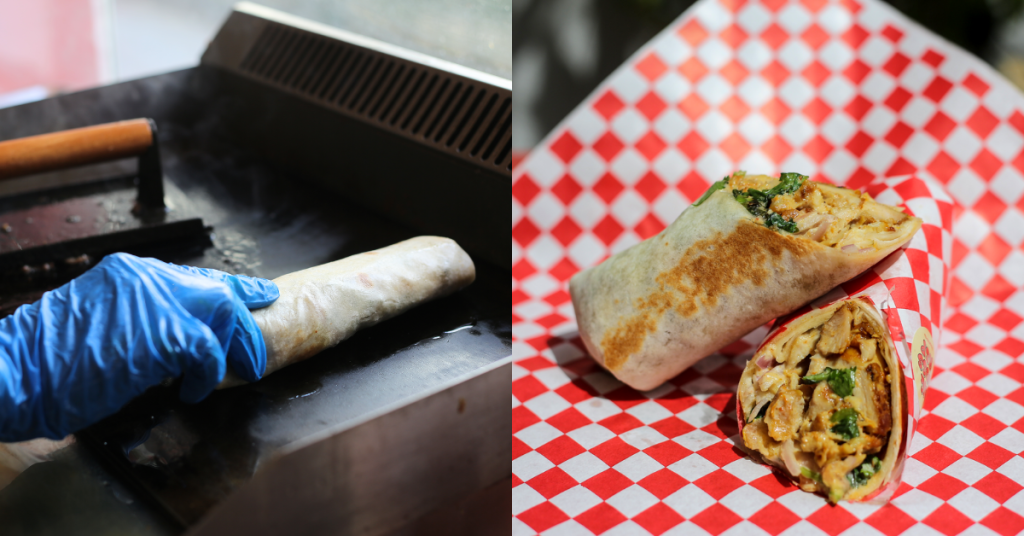 Fries with toppings are a conventional snack loved by all ages. There's even a local brand called Fam' Fries Kitchen that sells something similar, though not quite the same.
So it's unsurprising that Desmond reported the initial response from customers to be both "fantastic and overwhelming". 
The brand leveraged HSP's Aussie origin and marketed itself to those who missed the foreign snack. That being said, many curious Malaysians showed up at their door to have their first taste of it as well.
When local foodie influencer accounts visited the scene on their own accord, it helped fast-track the brand's marketing efforts. 
A new rival to Middle Eastern food?
While there aren't many Malaysian F&B stores selling HSPs, there are many Middle Eastern restaurants offering doner kebabs and shawarmas. 
So how does Big Boss HSP set itself apart?
Desmond shared that the brand's combination of Australian and Malaysian twists to its food helps in that department. "Also, we use a special seasoning unique from Australia in our fries that no other restaurants in Malaysia do, which is why our fries are our most popular side." 
But more importantly is their vision to build a food culture where people can come together to hang out. Think of it as something similar to your favourite mamak spot for casual lepak gatherings. 
For now, their main vision is to build on that, other than working to provide more food options to customers.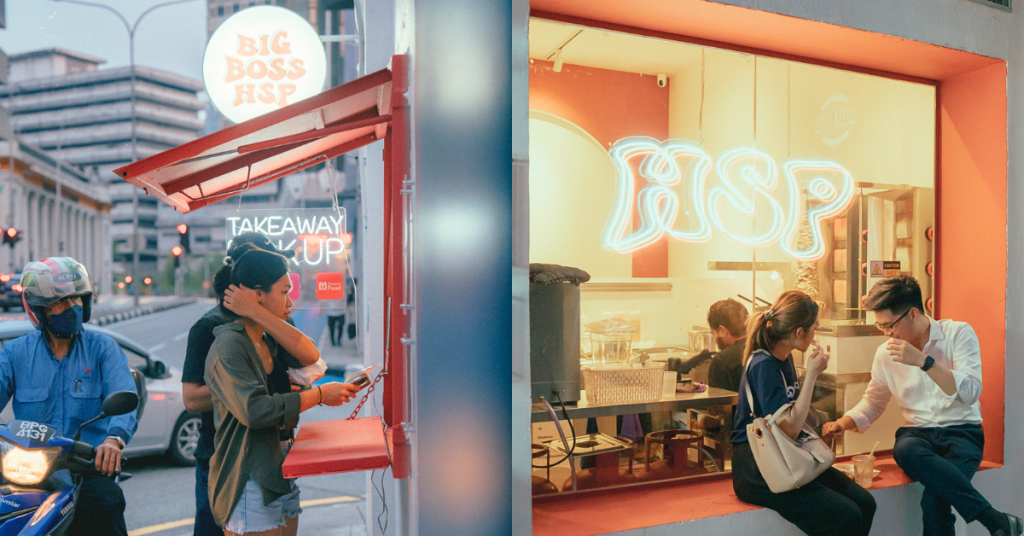 Though it's barely been a year since it launched its first store, there are already plans for Big Boss HSP's second branch to be launched later this year.
In terms of expansion, the brand will focus on the Klang Valley before exploring other states, or even countries. 
"Last but not least, we'd also like to invite larger entities who might've taken an interest in our business idea and model, to reach out if interested to discuss possibilities with us," Desmond shared.
Learn more about Big Boss HSP here.
Read other articles we've written about Malaysian startups here.
Featured Image Credit: Big Boss HSP