Tributes are flowing following the news Australian TV and radio icon Bert Newton has died at age 83.
Newton had been battling complications since undergoing surgery to have his leg amputated in May, and is survived by his wife Patti, children Lauren and Matthew, and extended family.
As the news was confirmed on Saturday night, former colleagues and notable public figures shared their memories of Newton from his six-decade career, which spanned radio, theatre and television.
READ MORE: Richard Wilkins remembers Bert Newton: 'The quintessential showman'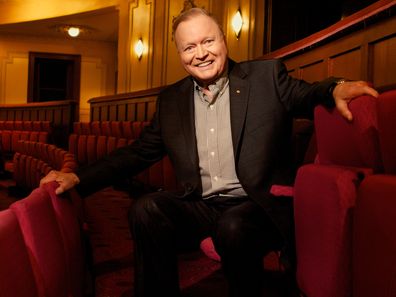 Prime Minister Scott Morrison reflected on Newton's "gift" for making Australians feel connected to both him and to each other.
"Australia loved Bert. There will never be another like him," Morrison said in a statement.
"Bert came into our homes and made himself very welcome. He was a regular guest and we always looked forward to his next visit.
"There was a familiarity that connected us to Bert, but it also connected us to each other. We could laugh together. That was his gift."
IN PHOTOS: Bert Newton's legendary life
Entertainment journalist Peter Ford broke the news of Newton's on behalf of the family, writing: "I have very sad news …. Showbiz icon Bert Newton has died at age 83. It was remarkable career on TV, stage & radio."
"Sadly he didn't get the last chapter he deserved. He was a great mentor & friend to me. Condolences to Patti, Lauren, Matthew & extended family."
Ford shared a series of sweet tweets about his friend, including a picture of the TV legend, smiling from his hospital bed just one week prior, surrounded by grandkids.
READ MORE: Inside Bert and Patti Newton's 47-year love story
"This was just one week ago exactly. If it's to be the last ever pic taken of you it's a bloody ripper! Smiling and with his adored grandkids. He never stop fighting until the very end," he wrote, adding jokingly that, despite not quite understanding Twitter, he'd be "chuffed to be trending at number one!"
Today Extra host David Campbell described the TV icon's passing as the "absolute end of an era", touching on the role Newton had played in his own TV career.
"Thank you for giving this young singer a chance on your show," Campbell wrote.
2GB Drive host Jim Wilson recalled growing up with the "legendary" host, who he described as a "national treasure" in the media industry.
Fellow 2GB radio host Chris Smith remembered Newton's "incredible empathy for those doing it tough".
Doctor Doctor star Rodger Corser simply wrote, "What a legend of Aussie TV and entertainment".
TV personality Rove McManus spoke of Newton as a "mentor", expressing his personal heartbreak and disbelief at the news.
"Today I lost a mentor and friend, our country lost an icon, but most importantly a family has lost their hero and soul mate. Sending love to all the Newtons, especially Patti. My heart is broken. Rest In Power, Albert Watson Newton."
Comedian Adam Hills declared Newton — a Logie Hall of Fame inductee and quadruple Gold Logie winner — "the ultimate entertainer".
"It's up to us all to take what he taught us, and keep his spirit alive. Enormous love to his family. Take a bow, Bert. You deserve the applause," Hills added.
Journalist Neil McMahon said it was "impossible to sum up" Newton's legacy, calling him "a genuine one-of-a-kind".
Victoria's Liberal Party leader Matthew Guy described Newton as "a wonderful Australian", calling his death "a huge loss to our city, our state, our country", while Bill Shorton remembered "a true Melbourne legend, a true believer and a world class entertainer".
Labour Party leader Anthony Albanese also shared his condolences for both the Newton family and Australia, "who have lost an icon".
Health Minister Greg Hunt wrote, "For decades, Bert Newton lit up Australian screens with laughter and joy. He was a part of very fabric of our television landscape and a key part of the continuing evolution of the silver screen. My thoughts are with Patti and his family at this time."
Journalist Paul Bongiorno, who worked with Newton, recalled his former colleague's "amazing" quick wit.
Former Premier of Victoria Jeff Kennett honoured Newton for "providing laughter and joy, and generosity for so many good causes".
Newton was even credited for starting a love story, with PR and marketing specialist Mandy Passmore sharing that the TV host had introduced her mother to her father, and went on to be her brother's godfather.
"He was … one of the few living links to their original happiness," Passmore tweeted.
Entertainment reporter Richard Wilkins simply wrote "We've lost a legend!", sharing his condolences for the family.
Reporter and TV presenter Angela Bishop were among the personalities expressing shock, saying the loss was "too soon".
"What a loss. There was no one quite like the great Bert Newton. To have lost him at 83 is still too soon, because he's truly irreplaceable. Brilliant, cheeky, generous, kind," she tweeted.
Australian actor and writer Peter Phelps described Newton as "warm and gracious to up and comers and everyone you come into contact with."
Comedian Denise Scott recalled a heartwarming story in which the TV pro did the ultimate selfless act for a good cause.
"Years ago when my friend & comedy colleague Lynda Gibson was dying of cancer we had a fundraising comedy 'roast' for her. Bert turned up @ HiFi bar in Melb&paid homage by removing his 'rumoured' toupee & revealing his total baldness," she tweeted, concluding: "It meant the world to us".
Friend and ex-colleague John Burgess described the experience of working with him and watching him work as an "absolute honour".
"This week just gets sadder with the passing of Aust. TV icon Bert Newton. I had the absolute honour of sharing a stage on occasion with Bert & was able to step back & watch a star at work. The void he leaves behind is immeasurable".
Writer Mark Humphries called the personality "a total pro" in a heartfelt tweet, sharing a throwback clip of a young Newton cheerily arbitrating a yard glass drinking competition on TV.