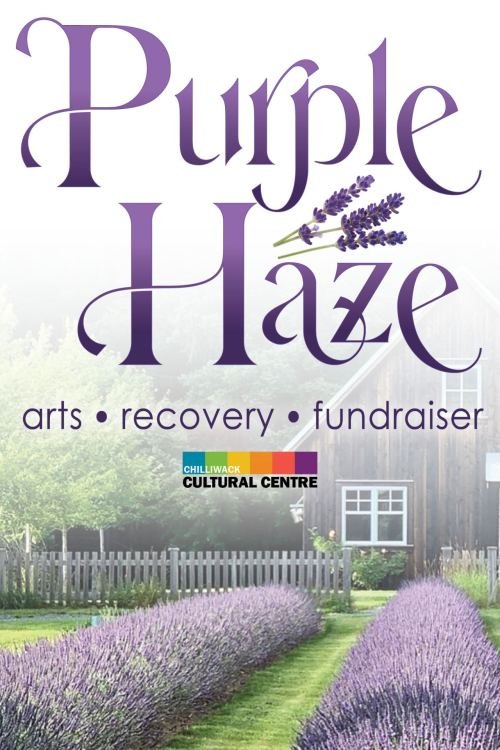 The following is excerpted from the Chilliwack Cultural Centre.
Chilliwack's Arts & Cultural Centre Society's PURPLE HAZE Recovery Fundraiser is a fun way to help support the Chilliwack Cultural Centre.
An arts recovery fundraiser set in the beautiful scenic Columbia Valley at Windward Lavender Farm!
Venue: Windward Lavender, 231 Columbia Valley Road, Lindell Beach, BC.
With a 1960's chilled-out vibe, guests will gather together, surrounded by the stunning scents of lavender and wrapped in the arms of the mountains, all complemented by live rock & roll music, and gourmet pizzas from Chestnut Springs Mobile.
Come and enjoy this amazing event with musical guests, Harma White, a groovy, dancy and amazingly fun band with a vintage rock and roll vibe! Dress up in your favourite concert t-shirt, Coachella garb, or your Woodstock flowers and tie-dye, as we join together to aid in the recovery of the community's Centre for the Arts. Adding to the ambience also is singer, and songwriter Ben Cottrill bringing his Folk-Rock style!
Your ticket includes your donation, your transportation to and from the farm (Shuttle bus available), your entrance to the farm, and the live entertainment! It also includes fantastic festival food and two adult beverages (more can be purchased) to enjoy while you lounge or dance as the sun sets over the mountain tops.
All proceeds from this benefit event will go toward The Centre's recovery, and the Chilliwack Arts & Cultural Centre Society's programming needs some rejuvenation!
For more information or to purchase tickets, click here.