Last November, 23-year-old content creator Yoga, attended the Singapore Fintech Festival. She was searching for a quiet space to finish her reporting and estimated she would need about two hours.
Not realising there was a media centre, Yoga headed to a café near the event venue. It is a natural and convenient move for many of us when we think of getting some work done in the public. Yet Yoga found that the cafes were already packed with patrons and the only available seat did not allow her to charge her laptop.
Just when she was wondering what would be the next best fit, Yoga stumbled upon a working pod, which is a rather fancy term for an office work booth.
It's a cordoned off space, now commonly found in a shopping mall, set up with WiFi access, charging points, and all that's needed for a semblance of privacy and peace.
Yoga hopped on it without thinking twice.
However, to her dismay, the overall upkeep of the working pod she found herself in, was subpar. Not only was the ventilation bad, but she also found crumpled pieces of papers on the floor and hair on the table. Yoga felt like she was in a stuffy sauna upon entering and 40 minutes into her work, she was perspiring heavily and feeling claustrophobic.
While the working pod's soundproof feature was great for better concentration, passersby could still peek through the semi-transparent door which made her uncomfortable at times. If all these weren't bad enough, Yoga was truly surprised by what she needed to pay — she was charged about S$15 for a 1.5-hour use.
A growing demand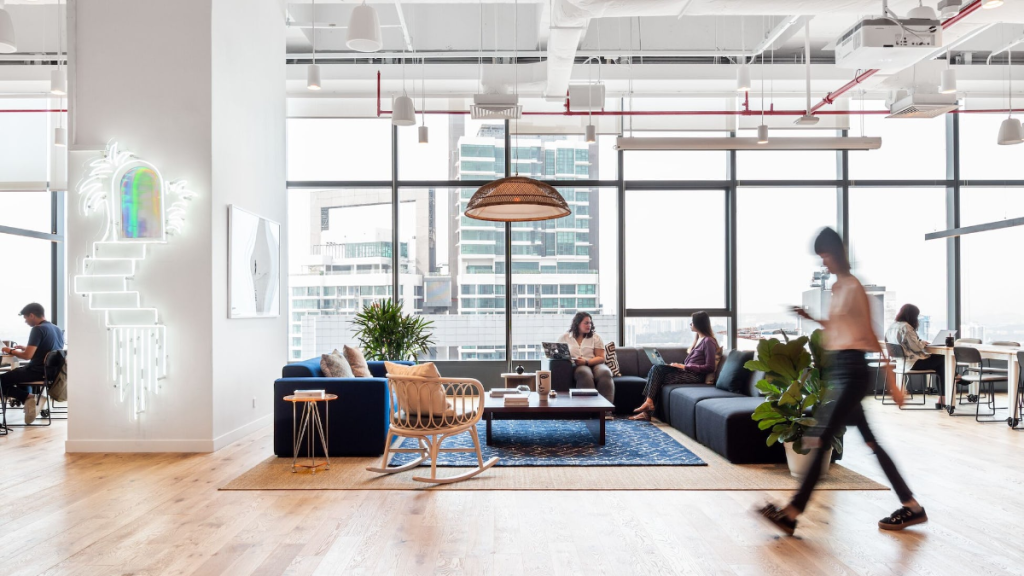 Co-working spaces first appeared in Singapore in 2011, as a contemporary solution for early-day tech businesses that were conscious about paying monthly office rental.
It soon sprouted up into a trend. Many buy into the idea that traditional workspaces were meant for dinosaurs, which don't facilitate networking, collaboration, and flexibility.
Property consultancy CBRE said in a report published last November that the demand for flexible workspaces in Singapore has rebounded from an average of 50 to 60 per cent during the pandemic, to an average of 80 to 90 per cent in the third quarter of 2022.
The recovery was mainly attributed to the reopening of borders and the return to office-based work arrangements.
By 2030, market experts predict that co-working space will increase from 10 to 15 per cent of total office supply across Southeast Asia, compared to the present five per cent. Despite the growing demand, escalating expenses due to inflation, property rents and cleaning and utility costs are driving co-working space operators to adopt a higher price tag.
To help you avoid any unpleasant surprises like Yoga's, we have researched and compiled a list of co-working spaces in Singapore that suit different needs, budget and location.
How much do co-working spaces cost?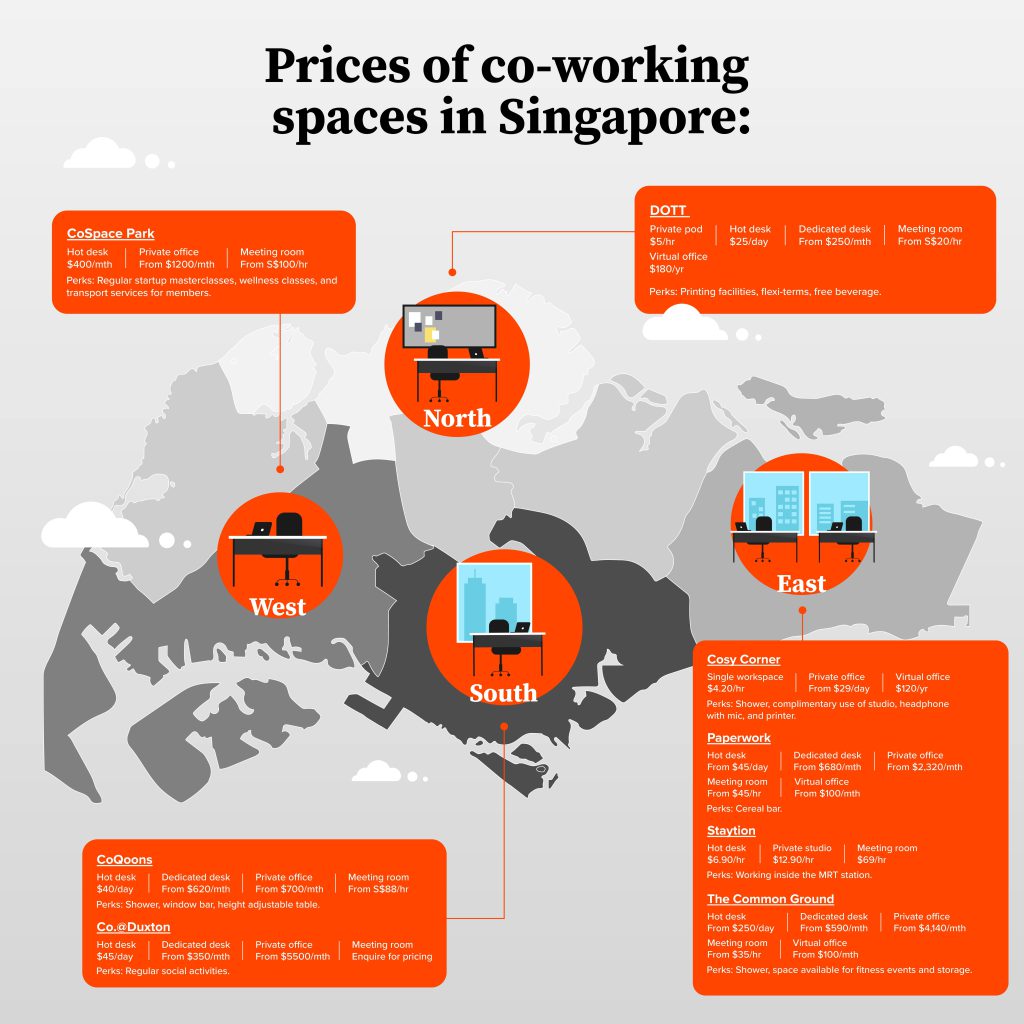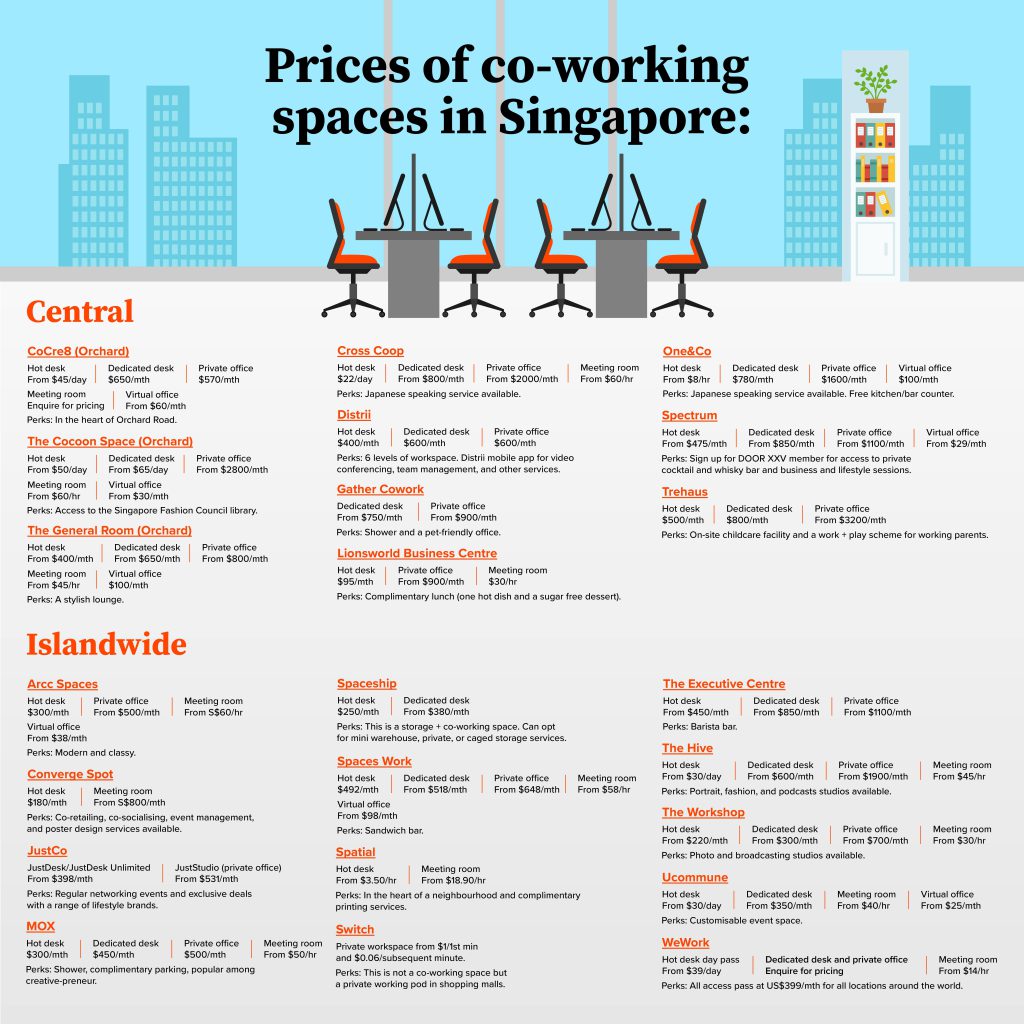 Understandably, co-working spaces in the heartlands are economical (i.e. a private pod starting at S$5/hour) compared to those in the centralised locations (i.e. a hot desk starting at S$8/hour).
Although centralised locations offer convenience, not everyone enjoys commuting to busy areas and paying for expensive lunches. Regardless, if you're looking for something affordable yet comfortable, at least you know there are available options.
Most co-working spaces offer complimentary use of the meeting rooms, printing services, meals, and other miscellaneous services to those who have signed on a longer lease.
Some co-working spaces (such as Cosy Corner and Staytion, to name a few) are made available to students and other members of the public. Others like MOX is especially designed for 'creative-preneurs', while The Cocoon Space is popular among designers as it's located within Singapore Fashion Council.
Cross Coop and One&Co are co-working spaces that offer services in Japanese, while Gather Cowork is pet-friendly. Additionally, The Workshop, The Hive, and other co-working spaces have on-site photography and broadcasting studios.
Converge Spot aims to facilitate connections between small businesses. Spaceship is a unique co-working space that also provides storage solutions in their warehouse, and Ucommune offers customisable event spaces that can be used for various community activities.
If you are brand-driven and/or a frequent traveller, JustCo and WeWork have membership plans that allow you to work from all locations around the world. Some of the co-working spaces are massive (like Distrii for example), while others are homely or convenient (like Staytion, which is housed inside the MRT station).
So, even if you don't exactly know what you are looking for, the bare minimum you can do is to assess how susceptible you are to background noise (i.e., typing sounds, people moving themselves or the furniture around, non-stop talking etc.) and non-essential socialising (i.e., needing to stop work once every 10 minutes because people walking past say hi and ask what are you working on).
Despite the growing demand for co-working spaces in Singapore and researchers believing that those who work in one thrive better, it's important to remember that not everyone may find them to be the ideal solution.
While co-working spaces may offer greater flexibility, networking opportunities, and a sense of community, they can also be more expensive than traditional office spaces. Ultimately, whether or not co-working spaces are the right fit for you or your business will depend on a variety of factors, including your budget, working style, and personal preferences.
Feature Image Credit: Hush Office/JustCo