Pint-sized partiers and parents alike will dance along to an all-vinyl set of disco and old-school house music, courtesy of DJ Elbow Knee Knee.
Calling all raver kiddos—it's ap-parent this "baby rave" is the place to be.
A new event in Pennsylvania invites toddlers to "dance [their] diapers off in a secure environment," according to its organizers, local arts collective 3 Dots. They say kids will be able to dance and take in colorful lights, as well as a variety of interactive installations.
Some pint-sized partiers will even get down in special dancefloor sections for VIC's, or "Very Important Crawlers." All will boogie to the sounds of DJ Elbow Knee Knee, who will be spinning an all-vinyl set of disco and old-school house music. 3 Dots says the volume will be at a decibel-level suitable for youngsters, but parents may bring baby earmuffs.
"As an avid crate-digger, I'm convinced that enjoying great dance music isn't affected by your age," DJ Elbow Knee Knee said in a statement. "The opportunity to play music that parents, friends and kids of all ages can dance to is such a satisfying vision to bring to life."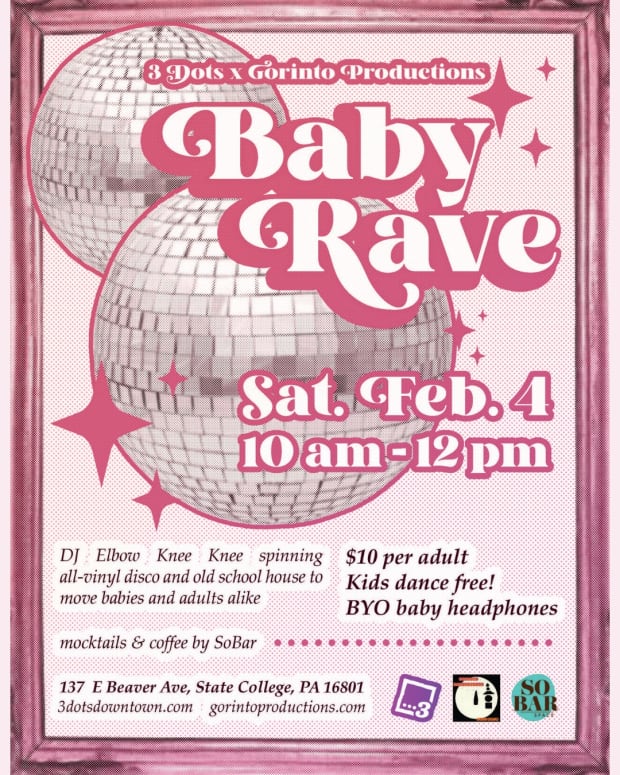 The "baby rave" is scheduled for Saturday, February 4th in State College, home to Penn State University's main campus. The event will also cater parents, who can sip on non-alcoholic drinks like mocktails or coffee.
"As an organization, we're always in search of new ways to share the arts with all in our community," added Erica Quinn, 3 Dots' Executive Director. "The event is as much for the adults as it is for the kids—for caregivers of young children to find new ways to connect and build community is critical. This is one of the great powers of the arts."
Find out more about the event here.