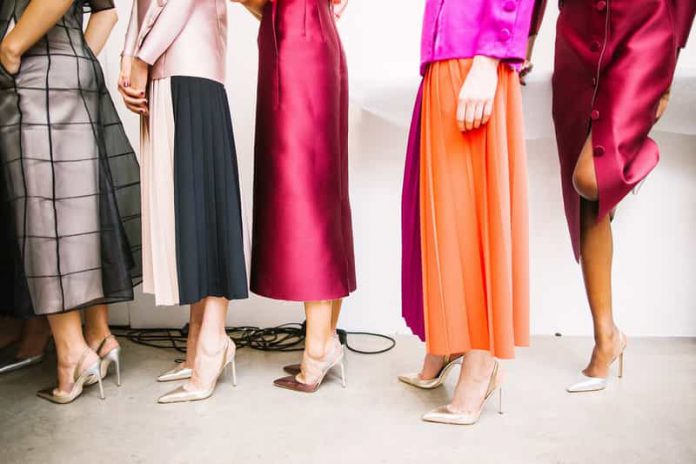 Being slim is the epitome of style, and beauty is no longer a concept. Now is the time when women are all about embracing their bodies and loving them just the way they are. One category that has long fought for its spotlight in the fashion world is the plus-size category. Why is that even a category? Curves are natural, and you should flaunt them anytime you like. With the lack of inclusivity in the past, plus-size women are still learning how to embrace their curves with the right outfits confidently. So, if you are one of those beautiful curvy ladies who haven't quite found the style to flaunt their gorgeous curves, then you've come to the right place because we've got just the fashion tips for you!
1. Understand your curves and body shape
The ultimate rule of plus size fashion is to understand your body shape and embrace your measurements. Why? Because ill-fitted clothes, no matter how curvy or skinny, look lazy and unattractive. You must understand whether you have an apple-shaped or an hourglass-shaped body. That way, you can easily balance your proportions and avoid making your body look shapeless. For instance, when it comes to casual styles, you may be tempted to get away with oversized tees with plus-size jeans, which are probably simply baggy. That's a fashion crime! Talking about jeans, are you looking for plus size jeans for women, don't worry, many stores now include plus-size clothing. So you can easily get one, either online or by visiting any store.
Coming back to fashion tips, suppose you have a pear or hourglass figure, for example. In that case, you should choose silhouettes that resemble your body and dresses that emphasize your large breast and hips without overshadowing your waist. Go for peplum tops, fit-and-flare dresses, and more.
2. Never run out of shapewear
There is nothing wrong with tucking a few of your curves to smooth them out or even support them. Shapewear is one of the better fashion items that will help curvy ladies feel confident when wearing skin-fitted clothes. You can use shapewear to make your curves stand out even more when trying to rock a pencil skirt or curve-hugging dress. Shapewear is a game-changer as it contours your thighs, tummy, and hips and pulls together a shapeless look. So, keep a few types of shapewear in your closet for toned looks and rocking sexy outfits.
3. Balance the proportions with the right clothes
Balancing proportions is essential if you don't want one part of your body to look way bigger than the other. Busty women, for example, have a curvaceous midsection and hips. However, they are on a smaller scale than the chest area. It means that if you go for clothes that complement your bust, you can end up having loose-fitting everywhere else. It is where a cinched dress can balance your curves perfectly without hiding them. A waist-cinching dress will tie together all that extra fabric without making your bust area look too tight.
4. Go for well-fitted dresses
There is a very senseless notion that plus-size women tend to hear now and then, and it's that if your body is big, then you should wear oversized clothes. While oversized clothes are trendy for plus-size and skinny ladies, they are not a staple for curvy women. If you want to flaunt your curves and look toned, always go for well-fitted clothes, especially dresses. Well-fitted means not too tight nor too loose. The dress has to complement the unique measurements of your body. A dress that's too tight will make you look bulgy and show your undergarment lines that do nothing for your curves.
5. Don't be afraid of pencil skirts
Pencil skirts are flattering and a staple for flaunting your incredibly curvy hips and thighs. Pencil skirts give your body a flattering balance that elongates your curves and looks highly classy as well. Knee-length pencil skirts offer casual and chic work looks, especially when paired with a long sleeve shirt or a sleeveless top. Pair a leather midi pencil skirt with a delicate shirt with a flattering neckline, sensual strappy heels, and a dramatic blazer draped across your shoulders.
6. Invest in good quality undergarments
Lingerie is underrated and most often underlooked because, well, it is under your clothes! We may think that undergarments are just holding our assets in place, but they do much more than that when it comes to flaunting your curves. It is essential that you feel good and sexy from the inside and aware of your beautiful body. Wearing supportive and comfortable undergarments and bodysuits can help you smooth out your shape and highlight your best parts. Ill-fitted garments can make your body bulge from all the wrong places, so invest in high-quality bras and shapewear to hug your curves the right way.
7. Go for heels
Heels are sexy, and that's it. When you throw in heels, you automatically make your entire attire look desirable, beautiful, and ultimately very sexy, whether skinny or curvy. So, don't be afraid to wear heels now and then, especially if you want to make your legs look longer. Not just the right clothes but accessories like shoes, belts, corsets, etc., are equally helpful in making your entire body look flawless. So, don't always go for flats or pumps and take a little risk with a midi dress or a thigh-length short dress and pair them with strappy heels, stockings, and bold jewelry.
Conclusion
Fashion is more about loving your body in whatever you wear than just going for trendy outfits. There is absolutely nothing wrong with the way you dress right now, but if you need to spice things up a bit and flaunt your lovely curves, then you can take help from the above pointers. Wearing clothes the right way and pairing them in ways that instantly change the entire aura around you is essential to make you feel confident about your body.