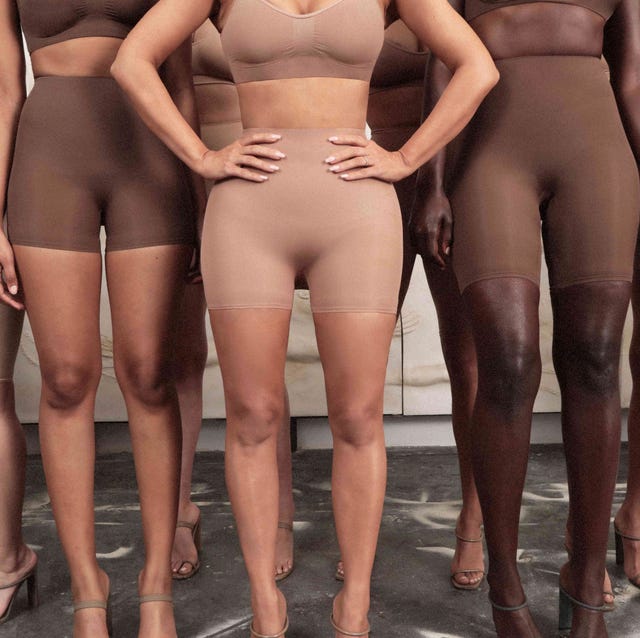 JOSHUA WHITE/JWPictures.com
Whether it's for a special occasion or everyday wear, shopping for shapewear can sometimes feel like buying a new bra. You want one that's comfortable, breathable, and supportive without being constrictive. And with so many brands out there, from longtime favorite SPANX to Kim Kardashian's SKIMS, it can be hard to know where to begin. After all, shapewear is a personal choice, so finding one that fits your body and lifestyle is crucial.
To help make the quest for shapewear glory feel more like a walk in the park than a marathon, we pulled 18 of our favorite shapewear picks for women. From full body bodysuits for everyday wear to asymmetrical shorts destined for your favorite high-slit dress, there's a shapewear pick for everyone. Shop our favorites ahead.
Advertisement – Continue Reading Below
Best Full Body Shapewear
Sculpting Bodysuit with Snaps
Since its launch in 2019, SKIMS has quickly taken the shapewear world by storm. One of its most popular products is this everyday bodysuit that lifts and sculpts our figure without making it feel like you're wearing an extra layer of clothing. Plus, it's available in nine different flesh-tone shades.
Best Butt Lifting Shapewear
Butt Lifter Shapewear
Over 20,000 five-star reviewers agree: this piece of shapewear is a must. The two-layer compression looks seamless under any favorite article of clothing, giving you the shape and lift you're looking for.
Best Strapless Shapewear Bodysuit
Convertible Shapewear Slip
Have a formal event coming up? Opt for this affordable style that features a built-in bra and undergarment. The straps on this style are removable, leaving you with more than one way to wear it.
Best Shapewear Shorts
SuperPower Short
A summertime holy grail if we've ever seen one. These sheer, lightweight shorts will keep your inner thighs from rubbing together yet won't make you over-sweat.
Best Thong Shapewear
Ultralight Shaping Thong
It's all about the waistband with this seamless, figure-hugging thong. Its barely-there feel makes it perfect for everyday use.
Best Tummy Control Shapewear
ErgoSculpt Extra Compression Fupa Concealer
The thick compression on the front side helps smooth your lower abdomen area, while the padded butt region helps add some extra curves. Adorned with a side zipper, getting this shaper on is a breeze.
Best Shapewear Brief
High-Waisted Power Panties
A tried and true class: the SPANX power panty. With a no-slip strip at the waistband, it'll stay in place no matter the occasion.
Best Open-Bust Shapewear Bodysuit
Open Bust Shapewear
Your favorite bra and your new favorite piece of shapewear can exist in harmony with this under $20 bodysuit. To keep it running for the long run, be sure to handwash it with care.
Best Shapewear Leggings
New Booty Support Full Length Tight
Editor's note: I never knew the true power of compression leggings till I wore these for the first time. The non-slip waistband holds all day long, and the double-layered fabric shapes better than most shapewear I own.
Best Plunge Shapewear Bodysuit
Firm Control Plunge Bodysuit
Low-cut dresses have met their match. The built-in bra helps keep everything in place, while the compression midsection will hug every curve.
Best Shapewear Tights
Ultimate Opaque Matte Tights
Your tights can do more than just keep you warm. The wide high waistband on this pair molds to your body and stays in place. Talk about a win-win.
Best Shapewear Tank
Mother Tucker Scoopneck Tank Top
If you thought this was your average tank top, think again. Made of compression material throughout, a sleek polished look awaits you. Plus, the wide bottom band stops it from folding or moving throughout the day.
Best Shapewear Sleeves
Invisible Smoothing ¾ Sleeve Arm Shaper
Your upper half deserves some shapewear too. This style, available in black and light brown tones, easily goes over any undergarment. Feel free to layer on up.
Best Shapewear Bra
Compression Wirefree Support Bra
Found: a bra that is as comfortable as it is supportive. The wireless design makes it feel like you have nothing on, while the foam padding offers firm support.
Best Postpartum Shapewear Tank
Leakproof Nursing Tank
Leaks, who? This wireless nursing top offers serious support and easy access with snap clasps, but the removable absorbent chest pads are the real star.
Best Corset
Savage X Cincher
The zip-up style on this corset saves you the time a normal cincher would take lacing up. Thank you, RiRi.
Best Strapless Low Back Shapewear Bra
Va Bien Longline
Have a backless ensemble you've been wanting to wear? Slip this lightly padded longline bra that features a v-shaped back design. Each bra comes with 1/2″ clear straps, leaving you with more choices on how to style it.
Best Asymmetrical Shapewear Short
Age Range
And the SKIMS hype strikes again, this time in the form of its life-changing seamless short. Best worn with a high slit, these bottoms cinch everything in while helping you show off a little skin.
This content is created and maintained by a third party, and imported onto this page to help users provide their email addresses. You may be able to find more information about this and similar content at piano.io
Advertisement – Continue Reading Below